New TLC Global Directors José Gregorio And Jahnna Hernández – A Dominican Success Story
May 24, 2018
By Nicole Dunkley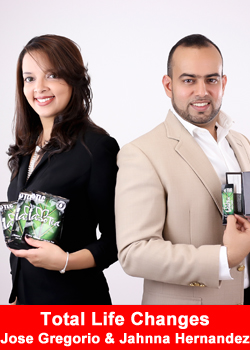 Dominicanos José Gregorio and Jahnna Hernández began their career in the MLM industry in 2010. By 2013 they had each generated six-figure incomes, with a 100% local team, in a third world country where the minimum wage is less than $1500 USD a year. But in what seemed like an instant, all of their achievements and dreams fell apart when the company they were working with lost its credibility in their country.
Despite their efforts to keep their business running, they lost everything. This is a story like a rollercoaster, of a couple plunging down from a great height only to find themselves hurled up even higher on the other side. After the disaster, Jahnna was employed again but shed lost faith in the MLM industry. José Gregorio continued looking for other opportunities, but in the end grew tired of coming up short. He decided to venture into traditional business.
In 2015, they found themselves newly married, with a baby but without great prospects. They were ready for an opportunity, and fortune was with them. Their friends Ana Cantera and Julio Lama (who were also their leaders at their previous company), contacted them and introduced them to Total Life Changes.
The couple had some reservations. Although I said '˜yes to Ana and Julio, we were very afraid of failing again,' said José Gregorio. He refused to allow that to happen.
Driven by the desire to improve his familys outlook and give the best to his daughter and wife, José Gregorio was determined to rebuild their business from the ground up. Against all expectations, within two years José Gregorio was generating over $100,000 USD in profits with an entirely new local team, and had achieved the Director rank with TLC.
In the meantime, Jahnna was focused on her own work. But when she met Jack Fallon and John Licari at an event in the Dominican Republic in October 2017, she started to get the itch again. The TLC Corporate team builds trust,' she said. I can see in them a real passion to create a sustainable opportunity for people.'
She decided to attend TLCs convention in Las Vegas the following March. Being able to see the diversity of cultures there and learn that in this company you can be yourself made me realize that I had let myself be overcome by fear. I knew I could do more for my children, my husband and for myself.'
At the end of March Jahnna joined her husband in TLC. By May, the pair had reached the rank of Global Directors, earning in one week the income it had taken her one year to generate in her previous job. Now this powerful couple is committed to offer "freedom' to thousands of others.
TLC has allowed us to totally change our lives,' says José Gregorio. Now our children receive the best and not simply what we can afford. We can plan vacations without getting into debt, and we have the time to dedicate to our family while we build our dream together.' Jahnna chimes in. The best part is that we have impacted the lives of hundreds of people who have changed their reality thanks to this wonderful opportunity called Total Life Changes. We hope to help transform the Dominican Republic as a whole.' 
About Total Life Changes
Total Life Changes offers a diverse product portfolio of health, wellness and beauty products. President and Tea Executive Officer Jack Fallon created TLC over 16 years ago with a single product: NutraBurst®. Since that time, TLC has continued to develop the Iaso® brand of products to include a diverse and attractive product portfolio matched with a hybrid binary compensation plan that allows IBOs of TLC to be rewarded quickly for introducing new customers to our products and business opportunity. Find out why so many are saying, It really is different over here.'