Omar And Liliana Salazar Achieve Diamond Rank At Vida Divina
May 18, 2018
By Team Business For Home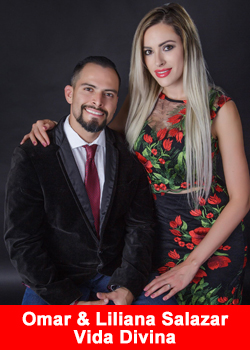 Vida Divina, a global direct marketer of nutritional and healthy lifestyle products, announced today that Omar & Liliana Salazar has obtained the rank of  Diamond.
With multiple six figure monthly revenues, Omar and Liliana Salazar reached Diamond rank with Vida Divina, an up-and-coming multilevel company that is making waves in the industry with outstanding growth numbers. Based in Querétaro, Mexico, this couple leads a business with current average profits of $50,000 and a network of 2,500 people.
Omar and Liliana Salazar joined Vida Divina August 2017 after a life-changing conversation with companys founder Armand Puyolt, one of the most successful people in the MLM industry nowadays. Puyolt showed them a new approach to networking summarized in three words: leading with love.
Vida Divina is not only about reaching the goal of financial freedom, its also about connecting with people and their own dreams and helping them find the best way to make them true.'
Omar says.
Married in 2015, the Salazars created their own method to reach and coach their partners. They call it STPJ, which is a Spanish acronym for Sé Tu Propio Jefe (Be Your Own Boss). STPJ is an internet-based system that expedites the process of recruiting and duplicating, with steady financial results.
The Salazars lead groups on Facebook and impart webinars and conference calls regularly for people all around the world. Currently, the couples online followers add up to near 5,000 people.
Weve reached audiences in really farfetched countries, like Ghana, Malaysia, Russia, Andorra'¦ Its unbelievable how far you can get with a message of prosperity and well-being,'
says Liliana.
Vida Divina offers a full line of health products'"energy drinks, weight loss enhancers and more'"and the Salazars identify deeply with that lifestyle. As a professional physical therapist, Omar worked as a fitness coach for many years before entering network marketing. Now, he and his wife embody a lifestyle where financial freedom goes hand in hand with health and material privileges.
 I used to work at sports clubs in Mexico, and though the pay was not bad, I had to work almost 16 hours a day,' Omar says. At the end of the day, I was exhausted and uncapable of living a fulfilling life.' Then, a close friend introduced him to the multilevel business and, he says, he didnt think twice: I did the math and quit my job immediately to make a career in this industry.'
Currently, the couple has associates in eight countries: United States, Dominican Republic, Mexico, Guatemala, Ecuador, Colombia, Spain, and France. Most of their daily work is done from home, but if they have to leave town for business, they do it with their two children. When meetings are over, they enjoy the trip as family vacations. At first, we thought having our kids walking around would ruin our presentations, but exactly the opposite happened,' Liliana recalls. Many of the people we met had children too, so we showed them that being parents was no hurdle for success in this business.'
Their next goal is expanding to all Latin America, and then the European Union. They are dreamers, but they know dreams must go along with hard work. In the years theyve built up their business, Omar and Liliana Salazar have seen many people who believe joining an MLM company is a lottery ticket.' Its been hard reaching Diamond rank,' says Omar, but all obstacles we found on the way just made us stronger. For me, difficulties are gifts from God to show your greatness.' 
So far, the satisfactions theyve received compensate greatly all the sacrifices. Sometimes people get their message and join their venture with no hesitation, and sometimes, they say, people say no, and you cant let that discourage you,' Omar advises. This is a business of persistence, so keep working!' Finally, Liliana adds: And when things begin working out, share the blessing. I assure you thats what it is: if you can reach financial stability and help people do the same, you should feel blessed.'
About Vida Divina LLC
Vida Divina® had one of the most Successful Launches in history, In less than a few years, Vida Divina has grown exponentially. The company has reached more than 32 countries and built up an empire of office buildings all around the world and its own manufacturing facilities. 
Vida Divina® Recently has been honored as:  One of the 100 Solid Top MLM Companies For 2018.
Rated AAA+ Network Marketing Opportunity buy Business For Home 
Founded by Network Marketing Legend Armand Puyolt, has been in the Top Network Marketing Earners ranks for over 25 years as a distributor, and has been selected by Business for Home as one of the ambassadors of the network marketing industry. 
Vida Divina offers a full line of health products, cosmetics, energy drinks, weight loss enhancers, chemical-free baby foods, among other products designed to enhance the human bodys abilities to cope with the stress of modern world and lack of nutrients.
As a debt-free company, Vida Divina was created like an Ark, to carry as many people to success as possible, and giving them an opportunity to change their future forever. For more information please visit www.vidadivina.com.