Top Leader Adam Paul Green Joins LifeVantage
May 17, 2018
By Team Business For Home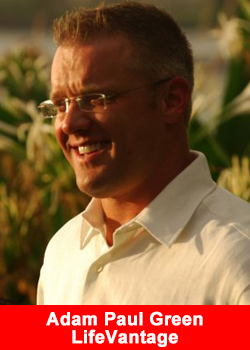 Adam Paul Green joins LifeVantage latest surging team to help establish the RyFryGroup.com
Ryan Fry has a successful history in Network Marketing.
RFGs vision is to build self-abundance, create wealth, improve health and inspire team members to expand their natural talents through personal self-development of clear sales tools, useful technology and energized personal recognition.
The Ry Fry Group develops tools, provides inspired training and supports network marketers with timely coaching.  Developing professional, self-abundant MLM Distributors to succeed. Ry Fry Group leads the home-based-business industry with its On-Demand Training Platform that educates, resolves concerns and provides simple to learn solutions.
RFG has reinvented the MLM space with its APP and is defining the future of MLM with new technology that allows an individual a personalized internal-evaluation of daily needs and self-awareness to discover solutions.  Adam Paul Green brings unprecedented experience to RFG having been a top earning Distributor, Supplier, Manufacturer and also Product Developer to the MLM industry for over 20 years.
A study by the National Institute for Aging (NIA) discovered that Protandim® NRF2 Synergizer was the only product clinically shown to extend the median lifespan of male mice by 7%.  Protandim® also has been shown to reduce oxidative stress in humans by 40% in 30 days (PubMed https://www.ncbi.nlm.nih.gov/pubmed/?term=protandim 23 Studies).
Protandim® NRF2 Synergizer is a potent protein that is latent within each cell in the body.  It is unable to function until it is released by an Nrf2 activator.  Once released, it migrates into the cell nucleus and bonds to the DNA master regulator of the bodys total antioxidant system.
There are five ingredients in Protandim® NRF2 that activate these pathways are: Ashwagandha, Bacopa, Green Tea, Milk Thistle, Tumeric.  A second scientific breakthrough was made with Protandim® NRF1.  Protandim® NRF1 stimulates the production of proteins that are needed for cellular energy production and proteins involved in the making of new, healthy mitochondria.  The five ingredients in Protandim® NRF1 that activate these pathways are:: Acetyl-L-Carnitine, Quercetin, Grape Extract, Alpha-Lipoic Acid, Coenzyme Q10.
About LifeVantage
LifeVantage was founded in 2003 and is headquartered in Salt Lake City, Utah.  In 2009, LifeVantage converted their business model from retail to direct to consumers with Network Marketing.  Network Marketing is the selling of goods where the distributor makes commissions.
Bio-Hacking is the process of making changes to ones own lifestyle in order to '˜hack the bodys biology and feel the bodys very best.  A '˜Hack is a '˜quick solution that solves a problem.  In 2012, LifeVantage became a publicly traded company on the US Stock Market.
For more information please visit www.lifevantage.com