OMNIA Expands Product Lineup To Include Cryptocurrency Trading Signals From Blockfusion
June 14, 2018
By Team Business For Home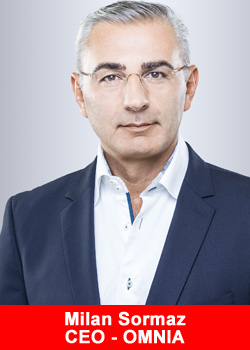 Having recently opened possibly the worlds single largest cryptocurrency mining farm in Armenia, OMNIA, continues to lead and innovate the crypto industry by expanded their product lineup with exclusive, highly accurate cryptocurrency trading signals.
During the live announcement, OMNIA CEO Milan Sormaz said,
Since January, our signal providers at Blockfusion have over a 90% accuracy.

Its an amazing achievement, especially when you consider the downturn of the cryptocurrency market during this timeframe. They sent out over 900 signals and only 8 werent profitable. I like those statistics!'
OMNIA Independent Business Owners receive signals directly to their dashboard from highly skilled trading experts who specialize in transparent, thoughtful and extremely safe trades that yield the maximum profit potential.
Each signal has in depth analysis and guides you on exactly how and when to make the trade. They will tell you what coin to purchase, at what price, what exchange and when to sell.
IBOs are able to join in on LIVE webinars for trading, training, Q&A so its a way to get to know the traders and fully understand every aspect of the service.
Blockfusion is comprised of experts from various locations all over the world and have years of experience in the cryptocurrency market as well as forex. Their signals are exclusive for OMNIA IBOs.
About OMNIA
Headquartered in Cyprus, OMNIA is a leader in the blockchain industry and offers a unique strategy for anyone to effortlessly participate. Our products and services are strategically sound enough to attract those that are blockchain savvy already and simple enough for those who are new to the world of cryptocurrency to begin their journey.
Where allowed, OMNIA offers lifetime mining services for Bitcoin, Ethereum and other alternative cryptocurrencies in our mining catalog as well as a variety of other blockchain-related products and services. OMNIA is comprised of professionals who possess years of experience in this space since the inception of Bitcoin. We have a scalable infrastructure that is secure and fully optimizable, capable of being a major part of the future of blockchain.
For more information please visit www.omniatek.com