Rain International: Growing Momentum In International Markets
June 14, 2018
By Team Business For Home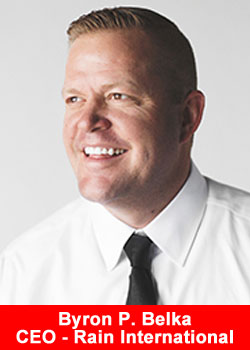 According to a Rain International press release:
"It isnt often you find a company whose products create a completely category. And this category is disrupting the health world.
Rain International started with a seed: scientists discovered many seeds are packed full of nutrients, chemical compounds, and vitamins and minerals, essential for a bodys peak development. The products that have been created from cold-pressed seeds have inspired a movement.
Rain International now provides the world with five, high-powered supplements and counting, and the world is feeling good.
Byron Belka, whose 20+ years in the industry have made him both an apt and sensitive leader, leads Rain with vision and excitement. He has conscientiously created duplicable systems for distributors and impactful products that perform and enhance lives.
The combination of high-impact products and great systems has opened doors in countless countries, grown Rains customer and distributor base to millions, and proved them to be a major disruptor in the health world.
With more products on the way, improved technologies in the works, and an increased focus on the individual, Rain is ready to grow at an even faster rate.
Rain also provides the most generous compensation plan in the industry, rewarding you for team-building and customer acquisitions. They utilize their very own Social Commerce model, which allows you to not just work from home, but build your business wherever you are. Just share, refer, and start earning your way to financial freedom.
Backed by the approval of the International Seed Nutrition Society (ISNS), a board of scientists and doctors dedicated to pushing forward the goodness of seed nutrition, and 1,000s who have felt the power of seed nutrition, Rain International continues to grow and deepens its disruption of the health world in ever-growing ways."
About Rain International
Rain International is the original creator of seed-based nutrition. Our experts have gone to the source of plant nutrition to formulate products proven to support healthy lives.
Rain International is more than the products we sell. From the beginning, we set out to make changes to improve the world around us starting with the health industry and moving beyond its borders into global sustainability, education initiatives, elevated lifestyles, and more. We believe that the ultimate human experience we all crave is within everyones reach, and we dont mind leading the way. For more info please visit www.rainintl.com