Liqin Shen And Alicia Liu Achieve Mannatechs Elite Million Dollar Club
July 12, 2018
By Team Business For Home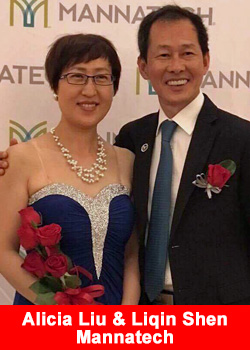 Alicia Liu And Liqin Shen from Canada achieved Mannatechs elite Million Dollar Club* '" a Triple A classified opportunity by Business For Home.
The Million Dollar Club recognizes over 200 members from all around the world who have achieved this illustrious milestone. This recognition not only celebrates monetary achievement, but the many lives that have been transformed because of their hard work.
Liqin Shen and Alicia Liu discovered Mannatech after emigrating from China to Canada in 2009.
We were looking for high-quality nutritional supplements for our family, and just at that moment, my upline Mr. Hanson Ma introduced Manantech to us,' said Liqin. After watching a video about the experience of sharing Mannatech, plus Hanson had been met with us three times, we were so impressed that we began to learn more about the importance of the Glyconutrients used by Mannatech in the development of their supplements.
With my previous government work in China, my engineering background and my experience in running my own business, I immediately recognized the exceptional opportunity presented by Mannatech.'
Mr. Hanson Ma, an outstanding professional and network marketer with a tremendous amount of wisdom, shared with my wife and me his own experience with 21 other multilevel marketing companies. After reviewing his research, we realized that Mannatech was the best company to work with because of the technologies used in the development of their products,' said Liqin.
As a result of Mr. Mas encouragement and my own research, we believed that Mannatech was the dream career and the business I was looking for. At that moment, we made the commitment to work full-time with Mannatech. We were the first full-time Chinese Associates!'
Even so, our start was not an easy one. Every day, we invited friends and presented Mannatechs products. Yet all six prospects with whom we met declined us or rejected us with contempt. But I did not take it as failure; I regarded it as practice.
I realized that understanding their needs is much more important than what we can offer.
It was not until the seventh prospect that I finally understood his needs for health and shared with him what he needed. He became my first customer.'
Since earning that first customer eight years ago, Liqin and Alicia have grown their business significantly and have now earned more than $1,000,000 total.' 
We are so grateful to have Dr. Steven Hines as our instructor, who helped us set up our system with his wisdom and virtues. We are also grateful for Dr. Susan Suns love and generous guidance that leads us Chinese to health.
We also owe our gratitude to Angela Manuel, our General Manager of Canada who started to support our team when it was tiny. She cared and witnessed our growth.'
As for ourselves today, we enjoy the financial benefits Mannatech provides us. We feel that our efforts are recognized and we are growing. Meanwhile, our family is blessed. My wife has always been my business partner. Our son witnesses our experience.
Nothing is more exciting than the fact that husband and wife can understand the same language, seek the same success and grow together. We now enjoy so much of the financial benefits and of the lifestyle which comes with it. Nothing is more exciting than a life full of hope and anticipation.'
We are now striving to rank up to 2-Star Platinum, with our ultimate goal being Crown Presidential Ambassador.'
About Mannatech
Mannatech, Incorporated, offers a profound wellness experience that makes a difference in the lives of people across the world. Through its innovative Glyconutrition products, Mannatech changes lives, providing an unprecedented level of natural wellness, freedom and purpose.
With more than 20 years of experience and operations in more than 26 markets, Mannatech is committed to changing lives.
For more information, visit Mannatech.com.