New Hires Inject Fresh Blood Into Total Life Changes Corporate Team
July 24, 2018
By Team Business For Home International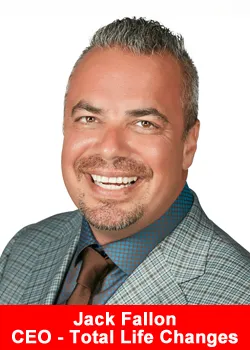 Although the public face of Total Life Changes is its army of hardworking Independent Business Owners (IBOs), the companys corporate team plays an essential behind-the-scenes role in facilitating their success.
These are the ones helping to guide our continually-evolving brand, providing material and strategic support to IBOs on the ground and developing new products that exceed the high standard our customers expect.
TLC is always on the hunt for innovative individuals who are genuinely attracted to our unique culture and vision of impacting peoples lives.
Two of our recent hires, Senior Graphic Designer Kory Stokes and Controller Tracy Bryers serve as strong examples of our Founder Jack Fallons quest to constantly improve how we do business. We wanted to take some time today to profile our new team members,' says Chief Operations Officer John Licari.
Kory Stokes is a native of Rochester Hills, Michigan, and a husband and father of four. He comes to TLC with a strong resume in the design sector, having worked for a variety of production houses and advertising agencies over the course of his career. He has also won recognition for his talents, including a nod for Most Innovative Website Design for his work with global marketing firm DigitasLBi and a spotlight feature and cover in Artistik magazine. He is a two-time Webby honoree in the field of design and user experience.
Though Kory has not been with us long, he has already warmed to the TLC way.
The culture here is great, filled with energy and open arms,'
says Kory. There is room to be yourself and not be afraid, which is a great feeling.'
I want to continue to learn about the company and see where we can make big changes for the new brand direction,' he says. I want all of our designers to feel comfortable bringing new ideas to the table, while developing the new look and positioning for the brand.'
In the longer term, he hopes to help the creative team feel comfortable bringing their best ideas to the table, in order to help the brand continue to grow beyond its established borders.
I want to engage our audience in new and exciting ways within the digital and environmental design spaces.

I think the next step for us is to explore ways to promote and embrace our products and customers outside of a screen and take it to the streets.'
Fellow new hire Tracy Bryers is also a lifelong Michigander, where she resides with her husband and young son. With over 20 years of experience as a corporate accountant, she brings a steady, seasoned hand to managing TLCs books.
Tracy has plenty of experience with helping rapidly growing businesses reach the next level. I was one of the founding members of a team that took my previous company from profits of a few million dollars a year to almost a billion in my ten years on the job,' she recalls. In my time I have dealt with just about every challenge an accountant can face.'
Like Kory, Tracy is responding well to TLCs office culture. The culture here at TLC is friendly and relaxed. It seems to be a team effort. Everyone is truly invested and believes in the mission and what we are trying to accomplish.'
Great accountants tend to be pragmatists at heart, and when asked about her goals for her new position, Tracy simply stated that she would focus on finding simple ways to save money without interrupting business. She is already working on enhancing the clarity of the companys financial reporting in order to give senior executives as clear a picture as possible of TLCs outlook.
The goal is simply to help make TLC the best MLM company out there.'
Thanks to the addition of Kory Stokes and Tracy Bryers, that goal just became a little more achievable.
About Total Life Changes
Total Life Changes offers a diverse product portfolio of health, wellness and beauty products. Founder and Tea Executive Officer Jack Fallon created TLC over 16 years ago with a single product: NutraBurst®.
Since that time, TLC has continued to develop the Iaso® brand of products to include a diverse and attractive product portfolio matched with a hybrid binary compensation plan that allows IBOs of TLC to be rewarded quickly for introducing new customers to our products and business opportunity. Find out why so many are saying, It really is different over here.'