Tove Somhovd From Norway Achieves Diamond Elite Rank With Rain International
July 31, 2018
By Team Business For Home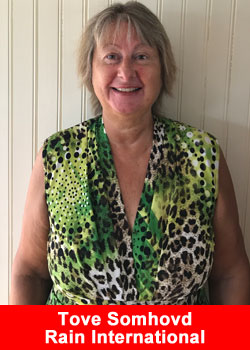 Tove Somhovd from Norway is no stranger to the world of Network Marketing.
Shes been a distributor in a handful of companies spanning the last 35 years, and has been extraordinarily successful.
However, it seems that this success has multiplied since joining Rain International.
 After an accidental Google search, Tove came across Rain Internationals webpage.
After a short time on the website and learning about their seed-based nutritional products and executive team, she knew she had to be a Rain Partner.
She joined in March of 2017 and hasnt looked back. Shes built an enormous, active team that has accrued over 2,000 Rain Partners, which has catapulted her through the ranks, all the way to Diamond Elite. Thats no small task, especially in an area of Europe that knew very little (or nothing) about Rain International.
 Rain accredits much of their success and expansion in Europe to hard-working Rain Partners like Tove. Byron Belka, CEO and Founder of Rain International has said:
 These are the leaders that will not only put us on the map, but put us at the forefront of health and wellness.'
 Tove tells everyone she meets that it only took her 35 years to find Rain International, the best company shes ever seen. Shes there to stay and there to grow.
About Rain International
Rain International is the original creator of seed-based nutrition. Our experts have gone to the source of plant nutrition to formulate products proven to support healthy lives.
Rain International is more than the products we sell. From the beginning, we set out to make changes to improve the world around us starting with the health industry and moving beyond its borders into global sustainability, education initiatives, elevated lifestyles, and more.
We believe that the ultimate human experience we all crave is within everyones reach, and we dont mind leading the way.
For more info please visit www.rainintl.com