AIM Global Ivory Coast Gains Momentum
August 19, 2018
By Team Business For Home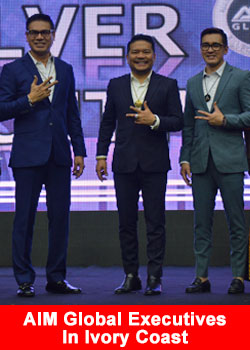 With over 5 million residents, the city of Abidjan is the fourth most populous city proper in Africa.
Filled with towering skyscrapers, commercial centers, exceptional schools and universities and peopled by diverse individuals and ethnic groups, Alliance In Motion Global (AIM Global) opened its Ivory Coast branch in Abidjan last year.
AIM Global Ivory Coast celebrated its first successful year last March 23 and 24, 2018 with a two-day convention.
Chief Finance Officer Engr. Francis Miguel, Company Vice Presidents Mr. Jurgen Gonzales and Mr. Arnel Limpin, AIM Global Ivory Coast Branch Manager Ms. Imee Leonor, AIM Global Ivory Coast Assistant Branch Manager Mr. Joel Anum, International Trainers Mr. Miko Imson and Mr. John Weip Melgarattended the twin activities.
Top leaders from Burkina Faso and Togo showed their support to the first branch of Ivory Coast in Abidjan and the Ivorian leaders and celebrated the branchs first anniversary.
You are the true hero of AIM Global. You are the reason why AIM Global is successful here in Côte d'Ivoire,
Vice President Mr. Arnel Limpin declared as he congratulated and thanked every single one of the attendees at AIM Globals Recognition Rally in Abidjan, Ivory Coast.
AIMcademy Côte d'Ivoire' was held last March 23, 2018 at the Espace Triangle in Abidjan with a turnout of over 1,000 people comprised of distributors and top leaders. The day was filled with workshops, trainings and product presentations given by the AIM Global Executives and International Trainer Mr. Miko Imson.
To become an effective leader, you have to be tenacious and have a go-getter attitude' quipped Vice President For Training & Network Development Mr. Arnel Limpin and further discussed pointers on How to Become an Effective MLM Leader'. Vice President for Business Development Mr. Jurgen Gonzales lent his insights on what steps a hopeful distributor should make to accomplish his biggest goals to achieve their greatest dreams.
Chief Finance Officer Engr. Francis Miguel divulged secrets on being successful and 30 Things AIM Global Leaders Do Daily,' a must to do list for anyone who wants to become a true champion leader. If the distributors are successful, then the company will also be successful,' the Mentor of all Mentors' remarked, reminding that one of the companys main goal is to help each and every distributor to build them up from being ordinary people to become the next extraordinary millionaires.
A Recognition Rally event was held on Day 2 with an impressive crowd of over 2,000 at the Parc de Sport in Abidjan. The Consulate of Philippines, Mr. Forest Philip, was there to witness the auspicious event along with AIM Global executives and AIM Global Ivory Coast management staff.

Dubbed as iRise @ AIM Global,' the attendees were motivated to do great even more as they watched the hard-working leaders get recognized and awarded for their achievements in just one year with AIM Global. Gold Executive Mr. Coulibaly Bala shared his testimony on health while Global Ambassador Ms. Sasso Pascal and Gold Executive Mr. Yao Francis shared their income testimonies and their personal stories of growth.
Ms. Sasso Pascal reminisced her life before AIM Global. She remembered her life as a simple police officer and not making enough money for her family was a struggle until she joined the company. I grabbed the opportunity. Two years after, I have made more than one million, five hundred thousand,' Ms. Pasacal stated. She then stated her next goal in life, saying that If Im still in Alliance In Motion Global in 10 years, I know I will among the billionaires. I will be able to achieve my dreams. So I encouraged each and everyone of you, those who are working who doesnt have enough salary, to join AIM Global family and compare the difference.'
International Trainer Mr. Miko Imson expertly expounded on the 5 Powers of Retailing' and presented the Product Launch of AIM Globals specialized food supplement for kids, Kiddi 24/7 NutraGummies and the heart-friendly food supplement, VidaMaxx.
Kiddi 24/7 NutraGummies is the ideal food supplement for children as it is packed with 14 essential vitamins, minerals, and 26 fruits and vegetables in gummy form.  Mr. Imson pointed out the importance of  resVida and FruitFlow in VidaMaxx.  ResVida is a patented and clinically-proven ingredient that dilates the arteries in the heart while FruitFlow is a tomato-based ingredient that helps maintain normal platelet aggregation, which contributes to healthy blood flow. Both of these ingredients from DSM have published human clinical studies.
Aside from empowering talks, recognition of new members of the Millionaires Circle and Speakers Bureau and the awarding of Silver Executives, Gold Executives and Global Ambassadors were also the main highlights of the event.
During AIM Global Philippines 12thAnniversary celebration, about  22 top leaders from Ivory Coast along with almost 700 leaders from Africa experienced an all-expense paid trip to the country. They were able to be a part of all the anniversary events such as, AIMcademy, ALIVE Foundation outreach program, the anniversary rally at the Philippines largest arena, Philippine Arena, Gala night, and the Leaders Summit held in Batangas.
Today, people are gaining more interest in AIM Globals products as well as its business as more and more people experience the wonderful benefits of the products.
ABOUT AIM GLOBAL
Founded by Network Marketing icons Raymond John' Asperin, Engr. Francis Miguel and Dr. Eduardo Cabantog in 2006, Alliance In Motion Global (AIM GLOBAL) is the leading direct sales network marketing company in the Philippines. The company markets and distributes top of the line Nutraceutical supplements, weight loss wellness products, personal care and skincare products, functional beverages and premium lifestyle products.
The company is a proud member of MLMIA (Multi-Level Marketing International Association) in USA, founding member of Direct Selling Association in Pakistan (DSAP) and Direct Selling Education Institute (DSEI) of Dubai, UAE.
AIM Global has 130 business center offices in the Philippines and has global offices in 19 countries namely Hong Kong, Singapore, Taiwan, Brunei, Papua New Guinea, UAE, Kuwait, Pakistan, Hawaii, Nigeria, Ghana, Kenya, Uganda, Togo, Ivory Coast, Cameroon, Tanzania and Rwanda.
AIM Global is categorized as +AAA' business opportunity, Top 100 Solid MLM Direct Sales Company 2018, Top 20 Momentum Direct Selling Companies 2018, Founder/Director/CEO and Visionary President Dr. Eduardo Cabantog as one of the Ambassadors of Network Marketing '" Hall of Fame 2018 by Business For Home and the top awardee in the Direct Sales category of Asia Pacific Entrepreneurship Awards 2017.
FRENCH TRANSLATION
AIM Global Côte d'Ivoire prend de l'élan en célébrant son premier anniversaire avec la convention de deux jours
 "Vous êtes le véritable héros dAIM Global. Vous êtes la raison pour laquelle AIM Global réussit ici en Côte dIvoire, a déclaré le vice-président, M. Arnel Limpin, en félicitant et en remerciant chacun des participants au rassemblement de reconnaissance dAIM Global à  Abidjan, en Côte dIvoire.
La Côte d'Ivoire, communément appelée IVORY COAST, est un pays progressiste doté d'infrastructures et de technologies modernes. Héritage franco-colonial, il fut une fois une colonie française et une partie de la Fédération française d'Afrique de l'Ouest. La Côte dIvoire est lun des pays les plus diversifiés dAfrique de lOuest avec une population de 24,9 millions dhabitants composée de plus de 60 ethnies différentes.
Avec plus de 4,7 millions d'habitants, la ville d'Abidjan est la quatrième ville la plus peuplée d'Afrique. Avec ses immenses gratte-ciels, ses centres commerciaux, ses écoles et universités exceptionnelles et ses habitants et groupes ethniques divers, Alliance In Motion Global a ouvert son bureau de la Côte d'Ivoire à  Abidjan l'année dernière.
Abidjan est la plus grande ville et capitale économique du pays. Souvent appelé le Paris de lAfrique,' Abidjan est un centre économique et culturel très actif et le principal centre urbain du pays.
AIM Global Côte d'Ivoire célébré son premier succès les 23 et 24 mars 2018 avec une convention de deux jours. Directeur Financier Engr. Francis Miguel, vice-présidents de la compagnie M. Jurgen Gonzales et M. Arnel Limpin, directeur de la succursale AIM Global Côte d'Ivoire Mme Imee Leonor, directrice générale adjointe de l'AIM Global Côte d'Ivoire M. Joel Anum, formateurs internationaux M. Miko Imson et M. John Wiep Melgar a assisté aux activités jumelles.
Les dirigeants des Philippines, du Burkina Faso et du Togo ont apporté leur soutien à la première branche de la Côte dIvoire à Abidjan et aux dirigeants ivoiriens et ont célébré le premier anniversaire de la branche.
AIMcademy Côte d'ivoire' s'est tenue le 23 mars 2018 à  l'Espace Triangle à  Abidjan avec un taux de participation de 1 000 personnes composé de distributeurs et de dirigeants. La journée a été remplie d'ateliers, de formations et de présentations de produits par les responsables au nouveau mondial et formateurs internationaux de l'AIM tel que, M. Miko Imson.
"Pour devenir un leader efficace, il faut être tenace et adopter une attitude plus énergetique," a lancé M. Arnel Limpin, vice-président de la formation et du développement des réseaux, et discuté des "Comment devenir un leader efficace." Le vice-président du développement des affaires, M. Jurgen Gonzales, a donné son point de vue sur les mesures que devrait prendre un distributeur plein despoir pour réaliser ses plus grands objectifs et réaliser ses plus grands rêves.
Directeur Financier Engr. Francis Miguel a divulgué des secrets sur sa réussite et 30 choses AIM Leaders Do Daily,' une liste incontournable pour quiconque veut devenir un véritable champion. "Si les distributeurs réussissent, la société aura également du succès", a fait remarquer le "mentor de tous les mentors," rappelant que lun des principaux objectifs de la société est daider chaque distributeur à  devenir un simple citoyen. les prochains millionnaires extraordinaires.
Un evenement  de reconnaissance était organisé dont le deuxième jour avec une foule impressionnante de 2 000 participant au parc de sport d'Abidjan. Le consulat des Philippines, M. Forest Philip, était présent pour assister à  cet événement, aux côtés des dirigeants dAIM Global et du personnel de direction dAIM Global Côte d'ivoire
Surnommés iRise @ AIM Global,' les participants ont été motivés à  faire de grands progrès en regardant les leaders qui se sont distingués et récompensés pour leurs réalisations en un an avec AIM Global. Le dirigeant de l'or, M. Coulibaly Bala, a partagé son témoignage sur la santé, tandis que l'ambassadrice mondiale, Mme Sasso Pascal, et l'exécutif de l'or, M. Yao Francis, ont partagé leurs témoignages et leurs histoires de croissance.
Mme Sasso Pascal a parlé de sa vie avant AIM Global. Elle se souvenait de sa vie de simple policier et de ne pas gagner assez dargent pour sa famille était difficile jusquà  ce quelle rejoigne la société. "J'ai saisi l'occasion. Deux ans après, j'ai gagné plus d'un million cinq cent mille,' a déclaré Mme Pasacal. Elle a ensuite donné son prochain objectif de sa vie, en disant que si je suis toujours dans Alliance In Motion Global dans 10 ans, je sais que je serai parmi les milliardaires. Je pourrai réaliser mes rêves. J'ai donc encouragé chacun dentre vous, ceux qui travaillent qui nont pas un salaire suffisant, à  rejoindre la famille AIM Global et à  comparer la différence."
Le formateur international, M. Miko Imson, a exposé de manière experte les 5 pouvoirs de vente au detail' et a présenté le lancement de produit du complément alimentaire spécialisé pour les enfants AIM Global, nommé  Kiddi 24/7 NutraGummies et le complément alimentaire Sympathique au cÅ"ur VidaMaxx.
Kiddi 24/7 NutraGummies est le complément alimentaire idéal pour les enfants car il contient 14 vitamines essentielles, minéraux et 26 fruits et légumes sous forme de gomme. M. Imson a souligné l'importance de resVida et FruitFlow dans VidaMaxx. ResVida est un ingrédient breveté et éprouvé en clinique qui dilate les artères du cÅ"ur tandis que FruitFlow est un ingrédient à  base de tomate qui aide à  maintenir une agrégation plaquettaire normale, contribuant ainsi à  la bonne circulation sanguine. Ces deux ingrédients de DSM ont publié des études cliniques chez l'homme.
Outre les discussions sur lautonomisation, la reconnaissance des nouveaux membres du Cercle des millionnaires et des Speaker Bureau et la remise des prix des SILVER EXECUTIVE, des GOLD EXECUTIVE et des GLOBAL AMBASSADORS ont également été les points saillants de lévénement.
Au cours de la célébration du 12e anniversaire d'AIM Global Philippines, environ 22 hauts dirigeants ivoiriens et près de 700 dirigeants africains ont effectué un voyage au pays entièrement payé. Ils ont pu participer à  tous les événements anniversaire, tels que l'AIMcademy, le programme de sensibilisation de la Fondation ALIVE, le rassemblement anniversaire dans la plus grande arène des Philippines, la Philippine Arena, la soirée de gala et le Sommet des leaders à  Batangas.
Aujourd'hui, les gens s'intéressent de plus en plus aux produits d'AIM Global et à  ses activités, car de plus en plus de personnes bénéficient des avantages exceptionnels de ces produits.
À PROPOS D'AIM GLOBAL
Fondé par les icônes du marketing de réseau Raymond "John" Asperin, Engr. Francis Miguel et Dr. Eduardo Cabantog en 2006, Alliance In Motion Global (AIM GLOBAL) est la principale société de marketing de réseau de vente directe aux Philippines. La société commercialise et distribue des suppléments nutraceutiques haut de gamme, des produits de bien-être minceur, des produits de soins personnels et de soins de la peau, des boissons fonctionnelles et des produits haut de gamme.
La société est fière d'être membre de la MLMIA (Multi-Level Marketing International Association) aux États-Unis, membre fondateur de la Direct Selling Association au Pakistan (DSAP) et Direct Selling Education Institute (DSEI) de Dubaï, Émirats arabes unis.
AIM Global possède 130 bureaux dans les centres daffaires aux Philippines et possède des bureaux dans 19 pays, à savoir Hong Kong, Singapour, Taïwan, Brunei, Papouasie-Nouvelle-Guinée, Émirats arabes unis, Koweït, Pakistan, Hawaï, Nigeria, Ghana, Kenya, Ouganda, Togo et Ivoire. Côte, Cameroun, Tanzanie et Rwanda.
AIM Global est classée en tant qu'une opportunité commerciale "+ AAA", Top 100 Solid MLM Direct Sales Company 2018, Top 20 des sociétés de vente directe Momentum 2018, fondateur / directeur / PDG et président visionnaire Dr. Eduardo Cabantog comme l'un des ambassadeurs du marketing de réseau – Hall of Fame 2018 par Business For Home et le premier lauréat dans la catégorie Ventes directes des Asia Pacific Entrepreneurship Awards 2017.