Renita and Scott Brannan Achieve National Director Elite With Kannaway
August 18, 2018
By Team Business For Home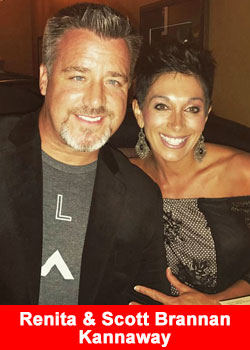 Medical Marijuana, Inc. (OTC: MJNA), the first-ever publicly traded cannabis company in the United States, today announced that its subsidiary Kannaway®, the first hemp lifestyle network to offer phyto-cannabinoid botanical products, is recognizing two new brand ambassadors for reaching the company's National Director Elite Rank.
Renita and Scott Brannan have achieved the rank of National Director Elite, which requires achieving a minimum of $135,000 in monthly business volume.
The Brannans saw the immense potential of cannabidiol (CBD) being positioned as the next big trend in health and wellness and jumped on the chance to build a CBD business of their own. Since joining Kannaway®, they have become a shining example of success with the company, being recognized many times for their dedication to educating others about CBD.
"Once we learned about Kannaway, we did a lot of research into what the products were and how trustworthy the company was.

Hands down, we believe that Kannaway is leading the charge in the industry in terms of quality, consistency and testing methods,"
brand ambassador Renita Brannan said.
"CBD is important to my family, including my husband, kids and even our dog, and I want to share it with everyone I can. We're very excited to continue to grow with this company."
Kannaway® is the first hemp lifestyle network to legally offer hemp-based botanical CBD wellness products. A family oriented company, Kannaway® encourages its brand ambassadors to create their own successful distribution businesses that will positively benefit the wellbeing of the people around them.
Under new management, the company has grown more than 50 times in revenue since 2016.
"We are very proud of Renita and Scott's achievement,"
said Kannaway® CEO Blake Schroeder.
"As Kannaway continues to be an industry leader with our hemp-based products, we are so fortunate to have hard-working people like Renita and Scott representing our company. Their commitment and drive sets an example we can all learn from."
About Kannaway®
Kannaway® is a network sales and marketing company specializing in the sales and marketing of hemp-based botanical products. Kannaway® currently hosts weekly online sales meetings and conferences across the United States, offering unique insight and opportunity to sales professionals who are desirous of becoming successful leaders in the sale and marketing of hemp-based botanical products.
About Medical Marijuana, Inc.
We are a company of firsts®. Our mission is to be the premier cannabis and hemp industry innovators, leveraging our team of professionals to source, evaluate and purchase value-added companies and products, while allowing them to keep their integrity and entrepreneurial spirit. We strive to create awareness within our industry, develop environmentally-friendly, economically sustainable businesses, while increasing shareholder value. For details on Medical Marijuana, Inc.'s portfolio and investment companies, visit www.medicalmarijuanainc.com.