Total Life Changes Extends Its B2B Tour To Medellín, Colombia And Beyond
August 21, 2018
By Nicole Dunkley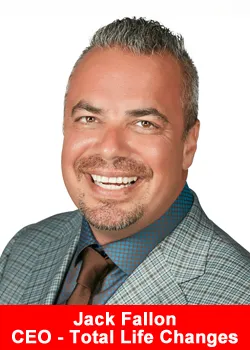 Total Life Changes Independent Business Owners (IBOs) in Latin America asked and they shall receive. The Back to Basics Tour from Total Life Changes is headed to Medellín, Colombia August 24-25, 2018. The B2B Tour has grown in popularity, attracting the interest of hundreds of guests to its impactful weight loss products and family of IBOs over the past eight months.
The approach to this years tour was to reward current TLC IBOs for registering guests to the host city, having them sit down for a short 30-minute presentation, and asking them to stay at the event absolutely free of charge.
This was a remarkable formula for success. Many current IBOs acquired new clients and business partners as a result of attending one of the events. The B2B Tour has already visited six U.S. cities and Nice, France. The momentum has carried the company to its best spring/summer revenue to date and now its time to take this event to Latin America.
Founder and CEO, Jack Fallon sums up this years series of events:
This has been a tremendous amount of fun. I challenged the team at the start of the year with this Back to Basics concept for this years events. To say that I am pleased about the results is an understatement.
I look at the success of these events in two ways; our staff is essentially planning for a wedding every month. Thats how I explain it. The attention to detail, and execution of each event has been extraordinary.
Secondly, everyone has grown personally, spiritually and professionally as a result of these events; our staff, the guests, and everyone that participates, or is recognized or awarded at each event has grown and experienced every human emotion possible. That is what I am most proud of; creating an opportunity for people to come together, share their experiences, celebrate their successes and the successes of others.
That is what getting back to basics is all about for us. I am really looking forward to Colombia, the energy in Central and South America is really unmatched anywhere else. Then we will be in Houston, the Dominican Republic, and we will close out 2018 with events in Miami and New York. And we are simultaneously teasing something brand new that we are calling Product X.'
Each B2B event is a combination of outstanding product testimonies, product training, leadership training, and recognition. Some highlights include revealing three weight loss winner contestants live on stage, acknowledging and rewarding the top three retailers and the top three enrollers in the company (since the previous months event), as well as IBOs that brought the most guests.
The next Back To Basics Event will follow the same format as the previous events; three new winners of the companys weight loss contest will be revealed and share their story in front of the live audience.
IBOs and their customers are encouraged to submit their before and after pictures and weight loss testimony for a chance to win free airfare, hotel accommodations, and a professional makeover.
Visit www.TLCHoustonContest.com for more information.
Visit www.BackToBasicsTour.com for more information about the next B2B event in a city near you.
About Total Life Changes
Total Life Changes offers a diverse product portfolio of health, wellness and beauty products. Founder and Tea Executive Officer Jack Fallon created TLC over 16 years ago with a single product: NutraBurst®.
Since that time, TLC has continued to develop the Iaso® brand of products to include a diverse and attractive product portfolio matched with a hybrid binary compensation plan that allows IBOs of TLC to be rewarded quickly for introducing new customers to our products and business opportunity. Find out why so many are saying, It really is different over here.'