A Family Business: New Total Life Changes National Director Harold Scott's Two Month Success Story
September 18, 2018
By Nicole Dunkley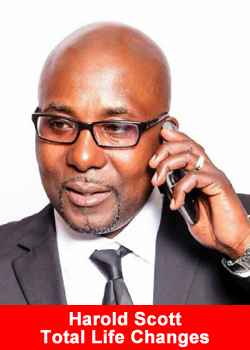 Good things are said to come to those who wait. In multi-level marketing however, there's a very strong emphasis placed on the first 48-hour window. Establishing a foothold helps new Independent Business Owners (IBOs) to weather some of the challenges of growing their own team, and serves as an early test of the IBO's aptitude.
Even for a company that allows new IBOs quicker access to compensation than the MLM average, Harold Scott of Houston, Texas' success has come uncommonly quickly.
Scott joined TLC in June of 2018. By August, he reported that he'd cleared five figures in earnings, and achieved the rank of National Director "From my first conversations with higher-ups in TLC like Global Marketing Director Phillip Birchfield and my sponsor Phillip Squires, it was immediately clear they shared my philosophies on family and team success," he says. "I don't feel I've really experienced any challenges in my brief time with TLC because the whole process feels so natural."
Family is of great importance to Scott. He lives with his wife Monique and daughter Kaela, and has been active in his community for 27 years as a little league football coach, a position he has recently retired from. An engineer by trade, he has been able to provide a good living for his family, but says the TLC opportunity is already helping them to dream bigger.
"Kaela has a year of high school left before she heads to college, but I've already introduced her to TLC to start her own business. I firmly believe she will become the company's youngest-ever six-figure earner, and I would be surprised if she ever has to work elsewhere again."
In TLC, Scott recognizes a familial atmosphere and commitment to communal success that he says stems from the top.
"[TLC founder] Jack Fallon is cut from a different cloth. Regardless of background or ethnicity, the company he's built treats us all as equals, with an equal shot at making good."
He contrasts his experience with TLC with previous experiments in network marketing, where it seemed to him that all of the profits crystallized at the top of the corporate ranks. His own success relies upon the success of those below him, and he works hard to facilitate their achievements.
"Personally, the product I've gotten the most use out of is our emu oil. Like a lot of African American men, I've had a history of razor bumps thanks to the coarseness of my facial hair after shaving. The oil has been a lifesaver for me. I use it on my head and face prior to shaving and after, and it keeps my skin smoother than any other product I've tried."
Looking ahead, Scott believes he will achieve a longstanding goal of full financial freedom from debt in less than five years. "It's been stated that only 3% of the people in the industry are successful. I disagree with those stats because success isn't based on who earns six or seven figures. In my opinion, any profit you make is a mark of achievement. I am chasing a passion and I look forward to seeing how far it will take me."
About Total Life Changes
Total Life Changes offers a diverse product portfolio of health and wellness and a commitment to family and fun. Founder and Tea Executive Officer Jack Fallon created TLC over 16 years ago with a single liquid multivitamin coined: NutraBurst®. Since that time, TLC has continued to offer a diverse portfolio of products that work matched with a hybrid binary compensation plan that allows IBOs of TLC to be rewarded quickly with retail sales simply by introducing new customers to our products. Find out why so many are saying, "It really is different over here."