Francis Miguel And His Lasting Legacy
September 23, 2018
By Team Business For Home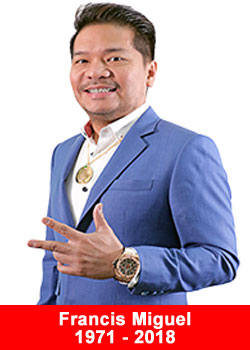 In a world full of people who are hungry for success, what does it take to be a mentor? Anyone can become a mentor, but what does it really take to be a great one?
We all know that a mentor is someone who advises, trains and counsels his new trainees or students with his knowledge and expertise.
But a good mentor also displays his willingness to teach and eagerly shares his skills, knowledge and resources. He doesn't just do it for the praise, he does it out of the goodness of his heart. He exhibits enthusiasm about his job and the industry that he's in for he believes that enthusiasm is contagious. He values and commits to ongoing learning and growth in his field and is open to experiment and learn new practices. He provides guidance and constructive feedback and his mentees know that his words came from the right place.
A good mentor demonstrates a positive attitude and acts as a positive role model for his mentees and much younger colleagues. He is respected as he goes above and beyond the call of duty. He walks the talk and leads by example.
He takes a personal interest in the mentoring relationship. He goes for the extra mile and does more than what he is required to do for everyone, especially to those who are in need. He does not take his responsibility as a mentor lightly; he is invested to the professional and personal lives of his mentees and their success.
You can find all of these qualities in one incredible man like Engr. Francis Melegrito Miguel, the Chief Finance Officer of Alliance In Motion Global, Inc.
Francis strongly believed that for one to achieve success, one should have the willingness to dream, to do hard work, to be consistent, to be of service to other people and having outstanding health and abundant wealth.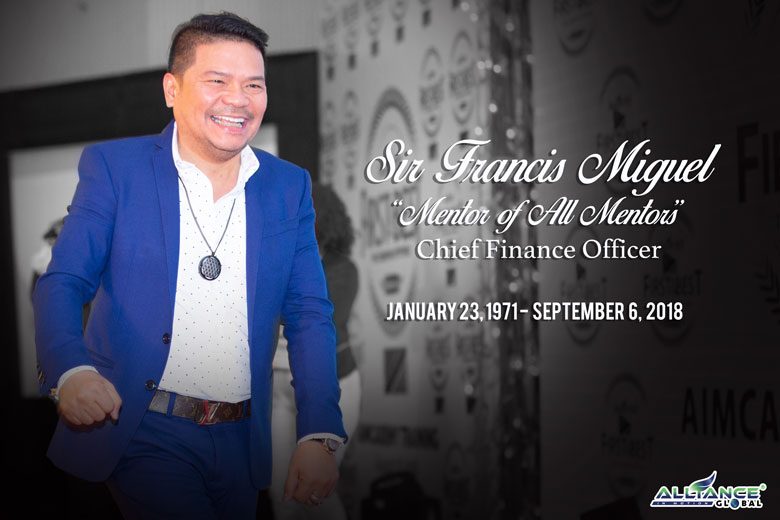 But by a sudden turn of unexpected events, AIM Global's beloved "Mentor of All Mentors" recently passed away, leaving behind his family, friends, business colleagues and thousands of leaders in grief. AIM Global lost a great man. A remarkable leader. An industry icon.
As soon as the devastating news spread, tributes poured in last September 6, 2018 for Francis, AIM Global's Chief Finance Officer, whose insights shaped the minds of some of the biggest figures in the network-marketing industry and inspired people globally. He died at the peak of his prime, at age 47.
Before he became one of the co-founders/directors of AIM Global, Francis worked for one of the country's biggest communications companies right after he graduated at Adamson University with a degree in Computer Engineering. Encouraged by his father, Francis Miguel started his network-marketing career and joined Forever Living Products, Inc. and earned his first million at the age of 24.
Throughout his career, Francis has helped countless individuals and has created multi-millionaires that have become icons in the MLM business under his guidance. He has proven his mettle and gained the respect from colleagues in the business and he is considered as one of the pioneer networkers that has mentored famous personalities in the industry, hence the title "Mentor of All Mentors."
In March 2005, he formed a strong alliance with two industry leaders, Dr. Eduardo Cabantog and Mr. John Asperin. Together, they became the triumvirate who incorporated and established an MLM-Direct Sales company, Alliance In Motion Global, Inc.
Francis was also recognized as one of the Most Outstanding Businessmen in his hometown, Bulacan, Philippines. He was awarded by Adamson University as Alumni of the Year in 2015 and he also became the first President's Circle Awardee in his alma mater.
With AIM Global, Francis has helped the company transform thousands of lives and create tens of thousands of millionaires and multi-millionaires all over world. As the company continued to succeed all over the world, Francis' career also flourished and he became an industry icon not just in the Philippines, but also in the Middle East and in the African continent.
On the personal side, Francis has a heart to help the needy.
Together with the Board of Directors and the Chairperson of ALIVE Foundation, Francis also participated in several outreach programs the foundation has organized. He also donated to various scholarship programs and sponsored for several university sports teams.
Francis was an active triathlon athlete. He strongly believed on leading a healthy lifestyle and he had influenced the people in his life or anyone whose lives he touched to do the same.
Undoubtedly, Francis' demise has left a huge gaping hole in the network-marketing industry and in the hearts of the people who loved him. With his inspiring story, his admirable work ethic and generosity, one thing is for certain…
Everybody might have left their own story, but Francis Miguel has a remarkable legacy to live by.
ABOUT AIM GLOBAL
Founded by Network Marketing icons Raymond "John" Asperin, Engr. Francis Miguel and Dr. Eduardo Cabantog in 2006, Alliance In Motion Global (AIM GLOBAL) is the leading direct sales network marketing company in the Philippines. The company markets and distributes top of the line Nutraceutical supplements, weight loss wellness products, personal care and skincare products, functional beverages and premium lifestyle products.
The company is a proud member of MLMIA (Multi-Level Marketing International Association) in USA, founding member of Direct Selling Association in Pakistan (DSAP) and Direct Selling Education Institute (DSEI) of Dubai, UAE.
AIM Global has 130 business center offices in the Philippines and has global offices in 19 countries namely Hong Kong, Singapore, Taiwan, Brunei, Papua New Guinea, UAE, Kuwait, Pakistan, Hawaii, Nigeria, Ghana, Kenya, Uganda, Togo, Ivory Coast, Cameroon, Tanzania and Rwanda.
AIM Global is categorized as "+AAA" business opportunity, Top 100 Solid MLM Direct Sales Company 2018, Top 10 Momentum Direct Selling Companies 2018, Founder/Director/CEO and Visionary President Dr. Eduardo Cabantog as one of the Ambassadors of Network Marketing – Hall of Fame 2018 by Business For Home and the top awardee in the Direct Sales category of Asia Pacific Entrepreneurship Awards 2017.