New Hires and Upcoming Events Bring New Light to Total Life Changes' Corporate Team
September 21, 2018
By Nicole Dunkley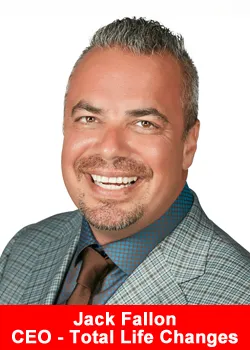 With a diverse set of high-quality products that are easy to sell and healthy to share, Total Life Changes now has thousands of thriving independent business owners (IBOs) in 14 countries all over the world. Their mission is to not only provide more people with their quality products, but also equip them with opportunities to build a brighter future, and they're hiring more man power to do just that.
TLC has added new hires to their corporate team in order to help guide their continually-evolving health and wellness brand. Corporate at TLC works to provide material and strategic support to their IBOs, as well as develop new products that continue to exceed their customer's expectations.
There are four incredible people who have joined the TLC corporate team to assist in these efforts in recent months: Accounting Controller Tracy Bryers, Senior Graphic Designer Kory Stokes, Graphic Designer Austin Wirgau, and Craig Cole, Security Improvement and Customer Relations.
Craig Cole – Security Improvement and Customer Relations
New hire Craig Cole comes to TLC with an extensive background in the field of Leadership and Management and 22 years of experience in customer service relations. Born and raised in Michigan, Craig has built a life with his wife Nicole of 19 years, their two children, and two dogs.
Craig has been getting settled in at TLC and has really opened up to the culture.
"I describe the culture at TLC as vibrant, action-packed and team-oriented. The leadership at TLC is hands on with a 'do as I do', not a 'do as I say' mentality. They lead by example and make the workplace a fun-filled place."      
Craig's goals are to provide a safe, secure and streamlined work environment, which includes improving safety measures and employee relations, providing EMT/CPR training, adding more security cameras, and more. TLC is excited to have him on board.
Tracy Bryers – Accounting – Controller
TLC welcomes Tracy Bryers to their accounting team.
With over 20 years of experience as a corporate accountant, Tracy brings a steady, seasoned hand to managing TLC's books.
"I have touched on just about every aspect of accounting. One of my most notable accomplishments is being part of an original team that took the company from a few million a year to almost a billion over the 10 years I was there. I have also been the key person in quarterly compliance audits in some of my past positions."    
You see, Tracy has plenty of experience helping businesses grow and reach the next level, which is something that CEO Jack Fallon looks for in his new hires.
Like Craig, Tracy is also thrilled about the culture at TLC.
"The culture here at TLC is friendly and relaxed. Everyone is truly invested and believes in the mission and what we are trying to accomplish. It is a team effort."
Tracy is also a lifelong Michigander where she resides with her husband and young son.
Kory Stokes – Marketing – Senior Graphic Designer
Kory is a Michigan native, husband, and father of four.
Kory comes to TLC with a strong resume and background in design, brand development, new business presentations, UI/UX design, print design, and video production storyboarding.
He has achieved various awards for his talents, including a nod for the Most Innovative Website Design for his work with global marketing firm DigitasLBi, as well as a spotlight feature and magazine cover in Artistik magazine. He is also a two-time Honoree Webby honoree for design and user experience.
Though he hasn't been with TLC long, he is eager to add value to the marketing department by streamlining processes and sharing ideas in both digital and environmental design spaces. Kory also spoke on the awesome leadership at TLC HQ.
"The leadership at TLC is AMAZING. They welcome you with open arms daily, give you guidance whenever you need it, and bring you that positive reinforcement to keep you going. I've never been at a company that has leadership like this, it's truly a breath of fresh air."                   
Austin Wirgau – Marketing – Graphic Designer
Austin looks forward to working with Kory in the marketing department and making awesome content for TLC's social media, which includes improving photography and creating new videos.
"The marketing and design team is important to TLC because we develop the visual identity of the company. I can design just about anything the team throws at me. This includes many things, but specifically do a lot of illustration, photography, motion graphics & videography."
Like the others, Austin also commented on TLC's culture, calling it an "upbeat atmosphere".
Upcoming Events:
In addition to adding new hires to the corporate team, Total Life Changes is excited to announce the following upcoming Back to Basics events featuring
September 21-22 at Hilton Americas featuring Keynote Speaker: Eric Thomas
Address: 1600 Lamar Street
Houston, TX 77010
October 19-20 at the Great Arena of the Cibao
Address: Santiago De Los Caballeros 51000
Santiago, National District
Dominican Republic
About Total Life Changes
Total Life Changes offers a diverse product portfolio of health and wellness and a commitment to family and fun. Founder and Tea Executive Officer Jack Fallon created TLC over 16 years ago with a single liquid multivitamin coined: NutraBurst®. Since that time, TLC has continued to offer a diverse portfolio of products that work matched with a hybrid binary compensation plan that allows IBOs of TLC to be rewarded quickly with retail sales simply by introducing new customers to our products. Find out why so many are saying, "It really is different over here."