José Ardón, The Highest Paid Latino, Expands Seacret Direct's Global Markets
October 12, 2018
By Team Business For Home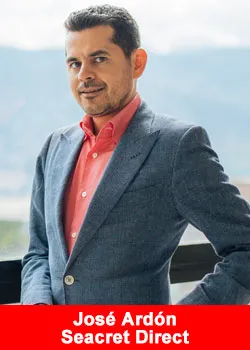 Growing up on a humble farm in Honduras, José Ardón witnessed a lot as a child.
He watched as his parents worked endless hours to earn barely enough money to put food on the table. He witnessed inequality and extreme poverty in his homeland. And, he heard countless stories of how much better life would be if they lived in America.
America, the land of opportunity, home of the great American dream. Night after night the stories of prosperity played in his head. It was hard for such a young child to imagine a place so vastly different from his own could exist, but if it did, he promised himself he would get there one day. So instead of dwelling on what he didn't have, José used it to fuel his determination for a better life—to pursue the American dream.
From he age of 11, José Ardón worked toward a life where limits are not set by the circumstances we're born into, but by our personal passion, abilities and aspirations. He knew that in order to change his life – and more importantly, the lives of his family – he needed to make his dream a reality and reach the United States, no matter what challenges stood in his way.
With a steely determination and a mere $100 in his pocket, José waved goodbye to his family and began his lengthy journey to liberation on July 20, 2000. Along the way he earned a bit of money by selling tortillas and corn or by transporting people on bikes.
It was a tough existence that only became worse when he suffered three days in the Chihuahuan Desert without food or water. He watched as those around him surrendered their dreams to the harsh reality the desert delivers. Their faces flashed through his mind with every painful step he took, yet he never abandoned his dream of getting to the land that offered the opportunity to change the lives of those he loved.
Visualization played a critical part in José's survival. When food was scarce, he imagined lavish dinners with his grateful family. When he had no shelter from the desert sun, he pictured handing his parents the keys to an impressive new home. These images moved José forward, step by step, driving him to push through pain and hunger to achieve his goal of getting to America.
José finally arrived in the US nearly a year later. Yes, while he achieved is goal of getting to America, he was living in a foreign house with virtual strangers, living off of the very limited wages he was earning by working 12 hours a day, six days a week, in a restaurant with his cousins. It definitely wasn't the American dream he heard so much about as a child in Honduras.
Wondering where he had gone wrong, José still managed to keep his hopes of success alive. He was no stranger to hard work, but he knew there had to be a better way. That day came when José was invited to a business presentation. He listened skeptically as people stated they earned a great deal of money in the direct sales industry. His first thought was that the company hired actors to entice him to purchase products. His friends agreed, yet something about the industry kept drawing him back.
Conference after conference and event after event he heard similar stories of financial freedom, but it was the event in Dallas, Texas, that triggered a change in him. A man stood before the crowd and shared why he chose network marketing and his measure of success—to earn enough money to buy his parents a new car and a house they deserved. José's path became clear once again.
He knew his weekly earnings of $400 USD each week wouldn't get him far, so he told himself: "I'll get rich doing network marketing, or I'll die trying."
From that day forward, he juggled repairing air conditioning units each day and dedicating time to business presentations every night. José gave countless presentations and spoke with numerous prospects, yet success eluded him.
By chance he heard from a successful business man that if you want to earn more, you must know more. And that if you dedicate one hour of reading each day you'll end up with 365 hours of knowledge at the end of the year. José began to read.
When he was 21, he found the book "Think and Grow Rich" by Napoleon Hill. He studied Hill's 13 principles of wealth and learned how to break through his psychological barriers that were preventing him from accumulating the riches he desired.
José set himself a firm goal to earn $120,000 in one year by diligently following Hill's 13 principles and changing his mindset. His perseverance paid off, and his income rose from $24,000 to $120,000 before year end. He was hooked. He asked himself, "If my goal of $120,000 was possible, why not $10million?"
He put his plan in motion with a goal to earn $10million dollars before he turned 30. When he was just 27 years old, José banked his first $1million. And before he celebrated his 30th birthday, he reached his goal of earning that $10million.
His life dramatically changed and he was able to achieve his dream of buying his parents a house and car. He'd found his purpose in life—to help others. And, he's done extremely well helping them. In 2009 he joined a project where he built a team of more than 300,000 people and produced more than $200 million in sales for a network marketing company.
Despite his ambitious and hectic schedule, José's days in the desert still haunted him. People lost their lives seeking the same dream he was now living. He understood that true prosperity was in their home countries, and he saw his new path clearly. He would return to his homeland and transform the American Dream into the Latin Dream.
José's latest goal is the most ambitious yet—and one that will have the greatest impact for those who choose to join him. After researching nearly 70 different MLM companies, José signed on with SEACRET™ Direct.
When asked what made SEACRET Direct stand out from other direct sales companies, he emphasizes the company's strong finances and sensible investments, stating that he believes the company will become the Amazon of the direct selling industry.
So José is now back in Latin America with a group of corporate experts, analysts and people passionate about helping reach his new goal of $1billion in sales by January 2023 and place one million people in his team—the team that will share in those profits. While that goal may scare some networkers, those who know José Ardón know this network marketing veteran has what it takes to reach it.
And, he's well on his way. He's currently sharing SEACRET Direct's lucrative entrepreneurial opportunity and exclusive products in Latin America, and will soon do the same in Europe and Asia. SEACRET Direct's reputation and position in the market shows that it's poised for significant growth. Most recently the company rose to No. 72 on the 2018 DSN Global 100 list and is expected to continue that climb for the 2019 list.
About Secret Direct
Founded in 2005, SEACRET™ Direct manufactures and sells high-end skincare products that combine Dead Sea minerals and other nutrients with new technologies and scientific breakthroughs.
Manufactured in Israel and headquartered in Phoenix, Arizona, SEACRET Direct products offer mineral combinations found only in the Dead Sea. SEACRET Direct products were already being sold in many countries before the company adopted the direct selling business model in 2011, and since then continues to be recognized on the DSN Global 100 list for its global impact of the industry on economic and social realms.