Sanki Global Classified As AA+ Opportunity
October 31, 2018
By Team Business For Home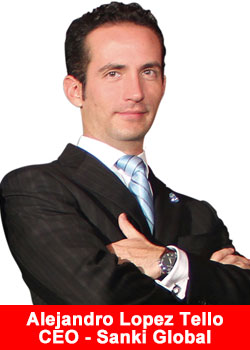 Founded in 2010, Sanki Global has a simple mission in mind: become a global force for well-being to assist you in fulfilling your life's purpose by providing revolutionaryproducts and an unmatched opportunity.
"Sanki Global is a well hidden secret, more networkers should consider

the amazing products and strong opportunity"

– Ted Nuyten
The name "Sanki" comes from a combination of the Japanese words "San", which means deep respect, and "Ki", which means our spiritualenergy. We believe in living up to our name every day and bringing our mission of wellness to the world.
Sanki's product offerings are designed to deliver powerful whole plant nutrients at the cellular level, thereby giving your body the deepest cleanse possible and empowering your body to naturally increase production of real cellular energy.
By reducing oxidative stress and increasing mitochondrial activity, fat burn, and acidic balance, Sanki products help you discover the Intelligent Force within your body.
In addition, Sanki believes in providing an opportunity for people to experience financial wellness, which can be achieved through a generous compensation plan that is among the most lucrative in the industry.
BelAge is the ultimate solution for promoting health at the cellular level.
BelAge has highly effective nutrients that include a proprietary blend of specially grown olive leaf and rosemary, assembled with the company's patented process to ensure that it is bioavailable, meaning it can be absorbed and used at the cellular level.
Using the natural oils from the ingredients as a carrier, the nutrients penetrate the walls of the cells and feed the mitochondria, which are the cells' power producers.
The mitochondria provide the energy a cell needs to move, divide and clean to allow the body to heal itself. BelAge is easy to take, tastes great and contains 14 trillion nanoparticles.
About Sanki Global
At Sanki, we control our entire product life cycle from planting to packaging, with farms in Spain, France, and Japan. Due to our rigorous standards, we dedicate a portion of sales to continued research and development on our product line, which is done at our Sanki Mayor laboratories in France, Japan, Switzerland, and United Arab Emirates.
Sanki is committed to health, transparency, and sustainability. This commitment means investing in science and substance as opposed to hype. The effectiveness of Sanki's active ingredients has been scientifically proven through extensive clinical trials and testing (never on animals), resulting in a healthier, happier you.
Sanki is currently operating in the U.S., Mexico and Colombia and plans to expand operations significantly in 2019.For more information please visit www,sankiglobal.com or www.sanki-mayor.com
About the Business For Home Ranking:
In our database we have 1,000+ direct selling companies from all over the world.
We have classified 1,000 companies with an AAA+, AA+, A+ or B grade.
The Business For Home grade definition
AA+

Business For Home recommends the opportunity. There is high certainty that the net benefit is moderate or there is moderate certainty that the net benefit is moderate to substantial for an distributor.

A+

Business For Home recommends selectively offering based on professional judgment. There is at least moderate certainty that the net benefit is small for a distributor.

B

Business For Home concludes that the current information about the company is insufficient to assess the balance of benefits. Information is lacking, of poor quality, or conflicting, and the balance of benefits cannot be determined.