Total Life Changes Back to Basics Tour Heads To Miami With Life Coach Clark Bartram
October 15, 2018
By Nicole Dunkley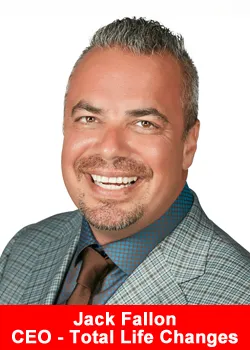 Total Life Changes B2B tour is heading to Miami November 2-3 with special guest, keynote speaker, and life coach Clark Bartram to show independent business owners that it is possible to be fit, build a business, and become successful.
Trainer, author, actor, life coach, fitness model, and former Marine — Clark Bartram may be many things. But in everything he does, Bartram puts forth 100% in hopes that he can benefit those who care enough about themselves and the people they love to do what it takes to 'Live the Lifestyle'.
Bartram has helped thousands of men and women transform their bodies and their lives as a personal trainer and life coach. In fact, he even has recently been elevated to the status of ISSA Master Trainer, a title held by only a handful of people in the industry.
As a former Marine, Bartram says he learned many things that are still with him today. "Things like 'always be ready!' have stuck with me, and that is precisely how I have approached my professional career for the last 30 years."
Bartram hopes to inspire TLC's IBO's at the B2B event in Miami to do the same. He also wants to show them that it is possible to be fit and build their business and give them the motivation and inspiration it takes to do so. Bartram proves this true with his own life's successes.
"10 minutes in the morning could change everything. Start each day with intention." – Clark Bartram
Bartram has not only earned a master trainer status and served on the armed forces, but he has also hosted his own fitness television show called American Health & Fitness, played the iconic superhero Batman in the cult classic Batman Dead End, and more. Needless to say, Bartram does it all and you can too!
Read more about Bartram's journey and how you can be a better you with his how-to guide, and several of his books — Spiritually Fit, A Fitness Program You Can Have Faith In and his most recent best-selling book called Where Your Mind Goes, You Go.
Total Life Changes is thrilled to have Bartram as a keynote speaker at their B2B event in Miami, as his successes and fitness journey lead a great example for all independent business owners (IBOs), especially those at TLC. Remember, as long as you start each day with intention, you can reach your goals and become a better you!
About Back to Basics
Each Back to Basics event is a combination of outstanding product testimonies, product training, leadership training, and recognition. Some highlights include revealing three weight loss winner contestants live on stage, acknowledging and rewarding the top three retailers and the top three enrollees in the company (since the previous month's event), as well as IBOs that brought the most guests. The next B2B Event will follow the same format as the previous events; three new winners of the company's weight loss contest will be revealed and share their story in front of the live audience.
IBOs and their customers are encouraged to submit their before and after pictures and weight loss testimony for a chance to win free airfare, hotel accommodations, and a professional makeover. Visit www.TLCMiamiContest.com for more information.
After the B2B event in Miami, Total Life Changes will close out the tour in New York City for the Sheraton Times Square event. Visit www.BackToBasicsTour.com for more information.
About Total Life Changes
Total Life Changes offers a diverse product portfolio of health, wellness and beauty products. Founder and Tea Executive Officer Jack Fallon created TLC over 16 years ago with a single product: NutraBurst®. Since that time, TLC has continued to develop the Iaso® brand of products to include a diverse and attractive product portfolio matched with a hybrid binary compensation plan. This allows IBOs of TLC to be rewarded quickly for introducing new customers to their products and business opportunities. Find out why so many are saying, "It really is different over here."