AIM Global Kenya Holds 2nd Anniversary With 3,500 Distributors
November 7, 2018
By Team Business For Home
Kenya's remarkable economic growth is a testament to the great leap of faith the founders of AIM Global did by bringing the company to the Kenyan soil two years ago. The company has helped more than just by training Kenyan distributors to build their own businesses, they also committed on making ordinary people become extraordinary people. The company made it their mission to help the Kenyan community, especially the needy.
To start the festivities for AIM Global Kenya's 2nd anniversary, AIM Global Kenya organized a full day dedicated to intensive trainings for its distributors. AIMcademy Kenya 2018 was held at the PCEA St. Andrews Parish Hall in Nairobi, Kenya last August 24, 2018 and over 2,500 attendees showed up and brought their A-game to a day filled with learnings from the best of the bests in the MLM industry.
AIM Global's Board of Directors/Founders, Chief Executive Officer and Visionary President Dr. Ed Cabantog, Chief Finance Officer Engr. Francis Miguel and Chief Marketing Officer Mr. John Asperin and company Vice Presidents Mr. Arnel Limpin and Engr. Jurgen Gonzales and ALIVE Foundation Chairperson and Director of International Affairs Dr. Connie Cabantog flew over the Indian Ocean and crossed the 9,410 km distance from Manila, Philippines to Nairobi, Kenya to show their support and appreciation to the Kenyan community by sharing their knowledge and expertise in the network-marketing industry to the attendees of AIMcademy Kenya 2018.
Along with AIM Global Executives, AIM Global International Trainers Mr. John Gay and Mr. Miko Imson and AIM Global's Medical Consultant Dr. Butch Villena were also at the event and gave several seminars and trainings to the aspiring distributors.
Vice President for Training and Network Development Mr. Arnel Limpin started the trainings with a helpful advice. "Your journey to success here in AIM Global will have lots of challenges. You will experience a lot of negative situations. But every time you experience a negative situation, always find a positive one… Always look for the positives and never give up… Think positive and never give up. If you really believe in what you're doing, work hard, take nothing personally and if someone blocks one room, find another and never give up."
Vice President for Business Development Engr. Jurgen Gonzales followed it up with a reminder about how important honesty and integrity in the network-marketing industry, "Nothing can destroy your business faster than dishonesty. You have to uphold your integrity. Do not exaggerate. Do not lie. Make sure to keep up with your promises. If you promise your downlines something, you have to deliver… If you never deliver, it will break their trust. Always conduct your business or activities in a way that people will look up to you or admire you."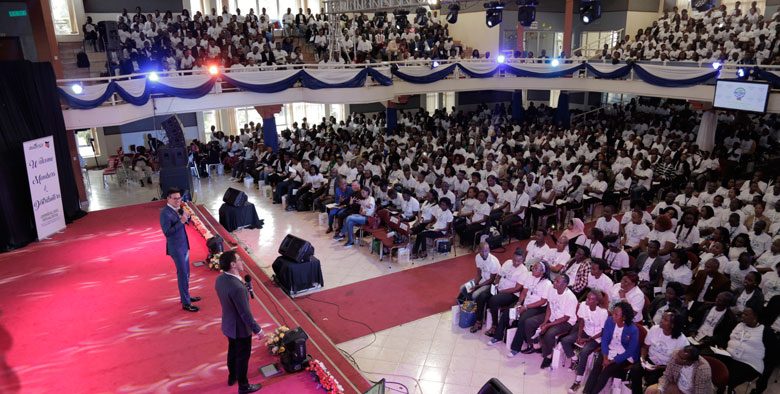 On his special talk, Chief Executive Officer and Visionary President Dr. Ed Cabantog tackled the power of vision. "One of the most important thing that you should learn in this AIMcademy Training is knowing your vision because vision is very, very important. Many people would cast their vision and they would know if they are on the right track."
The next day, August 25, 2018, the PCEA St. Andrews Parish Hall was filled again with over 3,500 jovial and excited distributors for the 2nd Anniversary Recognition Rally for AIM Global Kenya, organized by its hard-working branch staffs and AIM Global Kenya Country Manager Ms. Vanissa Imperial.
AIM Global Executives once again showed their support and attended the momentous event, leading the recognition rites for the new members of Speaker Bureau, Millionaires' Circle, new Global Ambassadors, new Silver Executives and Gold Executives and the newest Car Achievers of 2018. The Top 20 distributors of AIM Global Kenya were also announced with Ms. D. Nyama securing the first spot, followed by Mr. S. Njenga and Mr. M. Adika cupping the 2nd and 3rd spots.
Mr. J. Kathenya and Mr. F. Aluoch shared their stories of success and what they went through before becoming multi-millionaires today while Product testimonials were also given by Ms. E. Joy and Ms. L. Wangui, whose health recovery and wellness development impressed everyone.
ALIVE Foundation Chairperson and AIM Global's Director of International Affairs Dr. Connie Cabantog reminisced about the humble beginnings of the ALIVE Foundation back when it was founded a decade ago. "When ALIVE Foundation was established 10 years ago in the Philippines, one of its core purpose is to expose our growing numbers of AIM Global distributors in all the endeavors of ALIVE Foundation. These are outreach programs, surgical and medical missions. We are doing that in the hopes of opening the eyes and touching the hearts of each of our distributors in giving service to the less fortunate, to give an unselfish act of love and care to humanity and to develop an attitude of gratitude."
"Today, I am proud to say we have achieved that purpose. Most, if not all of our distributors, together with their group and their downlines, they do outreach programs on a regular basis. I am overwhelmed with so much pride and joy, because our distributors back home in the Philippines have found happiness in giving back and now serve as force for good. This is what I hope for Kenya," Dra. Connie Cabantog expressed with a hopeful and encouraging smile in front of the 3,500 Kenyan distributors.
She then proceeded to tell everyone her dream for the Kenyan distributors and its community, "This is what I hope to see in each AIM Global distributors in Kenya, that is for you to achieve not only great success through our business, to be able to provide for your own family and become financially free but more importantly, to live a more meaningful life by becoming a person for others through ALIVE Foundation."
Chief Finance Officer and "Mentor of All Mentors" Engr. Francis Miguel acknowledged the hardships of a network-marketer and gave them inspiring words to think about. "You survived the humiliations, discouragements, the no-shows at the meetings… The fact that you made it here in our second anniversary with all these rewards and recognition is really a testament and commitment to excellence. You are all destined for greatness. Each and everyone of you has the potential to change the world. I dare you to dream bigger dreams that even you are scared of. You must have a crystal clear vision of what life is going to be like 3 to 5 years from now. It keeps you excited everyday."
To end the event, Chief Executive Officer and Visionary President Dr. Ed Cabantog gave company updates and the closing speech of the night. "Before, East Africa was just a dream for us. But we know already that from Africa, from Nigeria, we know we will expand. Now, seeing all of you in this venue, I know from East Africa we will go to dozens and dozens of African countries. After seeing your excitement and aggressiveness, I know we will open in more African countries after another."
With its incredible 2 years of growth, the invigorating fighting spirit of the aspiring distributors and the unwavering guidance of the AIM Global Executives and management to its top leaders and distributors, AIM Global Kenya will inevitably reach newer and greater heights in the African continent and continue its growing momentum as one of the rising markets of the MLM direct-selling industry in the East African region.
ABOUT AIM GLOBAL
Founded by Network Marketing icons Raymond "John" Asperin, Engr. Francis Miguel and Dr. Eduardo Cabantog in 2006, Alliance In Motion Global (AIM GLOBAL) is the leading direct sales network marketing company in the Philippines. The company markets and distributes top of the line Nutraceutical supplements, weight loss wellness products, personal care and skincare products, functional beverages and premium lifestyle products.
The company is a proud member of MLMIA (Multi-Level Marketing International Association) in USA, founding member of Direct Selling Association in Pakistan (DSAP) and Direct Selling Education Institute (DSEI) of Dubai, UAE.
AIM Global has 130 business center offices in the Philippines and has global offices in 19 countries namely Hong Kong, Singapore, Taiwan, Brunei, Papua New Guinea, UAE, Kuwait, Pakistan, Hawaii, Nigeria, Ghana, Kenya, Uganda, Togo, Ivory Coast, Cameroon, Tanzania and Rwanda.
AIM Global is categorized as "+AAA" business opportunity, Top 100 Solid MLM Direct Sales Company 2018, Top 10 Momentum Direct Selling Companies 2018, Founder/Director/CEO and Visionary President Dr. Eduardo Cabantog as one of the Ambassadors of Network Marketing – Hall of Fame 2018 by Business For Home and the top awardee in the Direct Sales category of Asia Pacific Entrepreneurship Awards 2017.