AIM Global Philippines Holds Mid-Year Rally With 13,000 Leaders
November 25, 2018
By Team Business For Home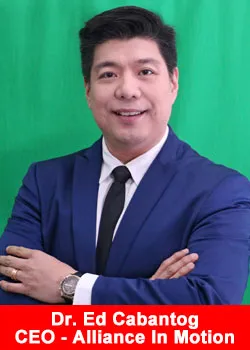 A crowd of over 13,000 Leaders attended AIM Global's annual Mid-Year Rally that served as the venue to celebrate the impressive milestones achieved by the newest members of the Millionaires Club, Global Ambassadors, the Rising Stars awardees, Top 5 Local Business Center Offices and the Rookie of the Year.
Leading the recognition rites were the company's Board of Directors/ Founders, CEO/Visionary President Dr. Eduardo Cabantog and CMO Mr. John Asperin, the Company VPs Mr. Arnel Limpin and Engr. Jurgen Gonzales and ALIVE Foundation Chairperson and Director of International Affairs Dr.Connie Cabantog.
Before the festivities started, a tribute for the "Mentor of all Mentors" was given to one of the founders of AIM Global, CFO Engr. Francis Miguel. A moment of silence was offered for a while followed by the deafening cheers of the thousands of people he has inspired for all of the decades he served the network marketing industry.
The recognition rites started with the awarding of the new Rising Stars–Mr. N. Medallo, Ms. J. Pennisi, Ms. H Cameon, Mr. J Manningo and Mr. A Tuasoc and announcement of Atty. N. Fumar of Dream Team Alliance winning the Rookie of the Year Award. The Top 5 Local BCOs-Novaliches branch as the top local BCO, followed by Sta. Rosa, Batangas City, Tagbilaran and Calamba while 300 new members of the Millionaires Circle and 500 new Global Ambassadors were conferred in the Mid-Year Rally, as well.
Testimonies of wealth and success were given by Global Ambassadors Mr. A. Garces, Mr. Adrian Vito and Ms. World Philippines 2018's Second Princess Pearl Hung, who is also an Elite Global Ambassador of AIM Global.
CMO Mr. John Asperin took center-stage with his words of wisdom. He believed that for one to become successful in the industry, one must be happy, have an integrity and the will to always hit their targets. Mr. Asperin encouraged the crowd to not lose hope and to trust the process and the system,
"If you're going to be with us while the company gets bigger, believe me, you will only go to the right path. To the path that will change your life for the better."
The attendees were treated to a dance number of the Marketing Team and an exhilarating performance of the AIMlympics 2018 Cheer-Dance Competition Champions, the Whitelight team. Celebrities Yam Concepcion and Sam Milby were also at the event to serenade the AIM Global family.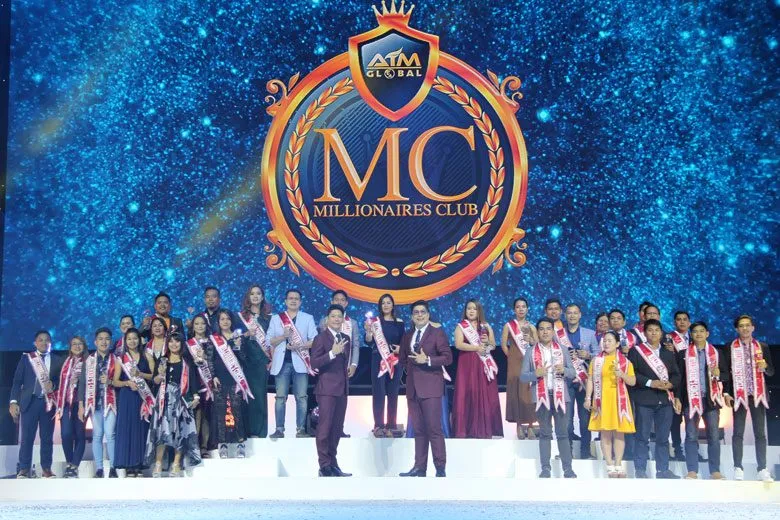 CEO and Visionary President Dr. Cabantog gave a presentation about exciting company updates and rewards exclusively for Filipino distributors. Starting 2019, AIM Travels will cater more frequent travels! The company plans to send 50-100 distributors for travel incentives every two weeks using their Travel GCs!
Acknowledging the importance of payouts during weekends, Dr. Cabantog presented a solution, apart from the distributors' BDO ATM cards, where they can encash on a daily basis on weekdays, they will receive their Chinatrust ATM cards now that will entitle them to a same-day encashment every Friday, Saturday and Sunday. They can now also have an Emergency Encashment option, where they can receive up to P50,000 within 5 minutes. This update will be implemented by December 2018 or January 2019. It is a real game changer for the Direct-Sales industry, paying out commissions "Daily 24/7"!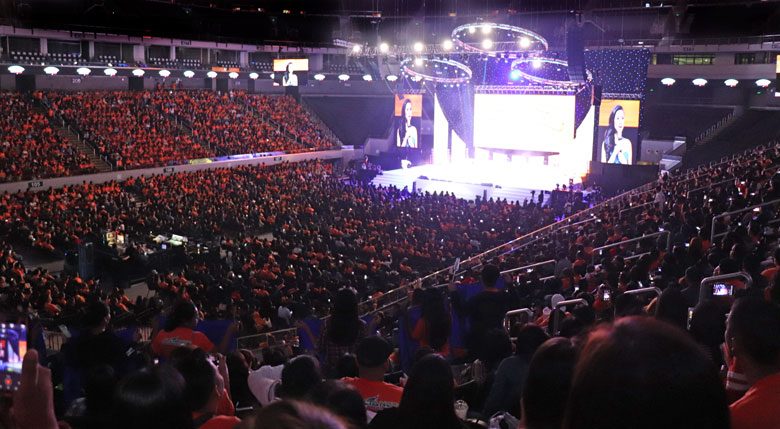 By November 8, 2018, AIM Global distributors will have more options when they reach their 5th GC cycle. They can now choose from Product GCs to Travel GCs to Sodexo GCs which distributors can use for shopping! Not only will they have a Global Business, but they will have "Free Travels" and "Free Shopping" with AIM Global.
News for the international expansion in the European continent:
Dr. Ed pre-launched AIM Global's newest food supplement that will serve as flagship product for the entire European continent, the E24/7! E24/7 is a groundbreaking Natura-Ceuticals that contains 102 powerful ingredients with a patent pending formulation.
It has an ORAC value of 799,262.40 per bottle measured by Brunswick Labs in USA and manufactured in Brussels, Belgium. With E24/7, AIM Global continued its brand partnership with Weider Global Nutrition, a Nutritional Supplement Brand with 80 years of experience and excellence.
In a rare display of emotion, the Visionary President shared his heart-warming reflections for the past few months,
"I came to realize today that seeing each and everyone of you gives me the fuel to rise up everyday.
To rise up, fulfill the vision, to continue in innovating, to serve you more because we love this company so much and we love you so much. We're dedicating not only our lives, but also the lives of our families…

This is our life–serving the champs. Hail to the Champs of AIM Global! Hail to the new millionaires of AIM Global! Hail to the new Global Ambassadors of AIM Global! We are at your service as we dominate the world!"
ABOUT AIM GLOBAL
Founded by Network Marketing icons Raymond "John" Asperin, Engr. Francis Miguel and Dr. Eduardo Cabantog in 2006, Alliance In Motion Global (AIM GLOBAL) is the leading direct sales network marketing company in the Philippines. The company markets and distributes top of the line Nutraceutical supplements, weight loss wellness products, personal care and skincare products, functional beverages and premium lifestyle products.
The company is a proud member of MLMIA (Multi-Level Marketing International Association) in USA, founding member of Direct Selling Association in Pakistan (DSAP) and Direct Selling Education Institute (DSEI) of Dubai, UAE.
AIM Global has 130 business center offices in the Philippines and has global offices in 19 countries namely Hong Kong, Singapore, Taiwan, Brunei, Papua New Guinea, UAE, Kuwait, Pakistan, Hawaii, Nigeria, Ghana, Kenya, Uganda, Togo, Ivory Coast, Cameroon, Tanzania and Rwanda.
AIM Global is categorized as "+AAA" business opportunity, Top 100 Solid MLM Direct Sales Company 2018, Top 10 Momentum Direct Selling Companies 2018, Founder/Director/CEO and Visionary President Dr. Eduardo Cabantog as one of the Ambassadors of Network Marketing – Hall of Fame 2018 by Business For Home and the top awardee in the Direct Sales category of Asia Pacific Entrepreneurship Awards 2017.