Karen "Coach K" Wharton Turns Natural Positivity Into TLC Success
November 29, 2018
By Nicole Dunkley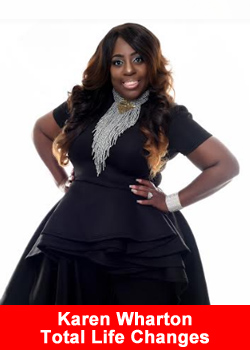 You know you're making an impression on people when you wind up with more than one nickname. New TLC National Director Karen Wharton is known as "Coach K" by members of her burgeoning network, Team DynasTEA (Training Entrepreneurs for Abundance), and also as "Wonder Woman."
"They call me that because when I'm on a mission to help others, I'll stop at nothing," Wharton explains.
A North Carolinian, Wharton has certainly never lacked for energy. She owns a successful computer consulting firm, is a mother of grown twins (plus a son in law) and is a dedicated health fanatic. Alongside her career as an entrepreneur, she also has a long track record in multi-level marketing. In the past, she's worked for a number of companies, including TLC, but the combination of an increasing workload and a series of setbacks had soured her on the industry.
"I've had so many heartbreaks, failures and broken promises with MLM in the past that I had promised myself I'd never work a home-based business again," Wharton recalls. But a chance meeting with Global Marketing Director Phillip T. Birchfield led her to reconsider.
"I still had a lot of fear, but I'd also experienced significant personal weight loss using the products so I knew they worked," she says. "Based on what I heard from Phillip, it seemed like the company and I were both in a place where it made sense for me to try again."
Wharton says she was "overwhelmed" by the support she received from friends and family upon her return to the business. A number of those who had previously worked with her in MLM were willing to sign up for another round, and before long she had a thriving network of Independent Business Owners (IBOs).
While "Coach K" is happy to have reached the rank of National Director, she considers her biggest accomplishment to be that many on her team have also been promoted several times, including Teia Smith, her New Regional Director and best friend. In her view, this attitude is shared by TLC executives like Jack Fallon and John Licari.
"What makes TLC different is Jack Fallon and John Licari working at the ground level with the people who make this business successful," she says. "The new TLC makes sure everyone is educated in the products and the compensation plan. The new TLC acknowledges leaders at every level."
TLC has allowed Wharton to do what she loves most, which is to give. She recently started "OWWN IT," an organization for women with home-based businesses that seeks to teach them how to "Own Winning Without Negativity." She has a long-term goal of becoming a qualified Ambassador in a few years by honoring the founders who came before her, continuing to be a product of the product, following proven leadership, supporting new talent and staying focused.
"I work this business like my life depends on it, because the livelihood of others actually does!"
About Total Life Changes
Total Life Changes offers a diverse product portfolio of health, wellness and beauty products. Founder and Tea Executive Officer Jack Fallon created TLC over 16 years ago with a single product: NutraBurst®. Since that time, TLC has continued to develop the Iaso® brand of products to include a diverse and attractive product portfolio matched with a hybrid binary compensation plan that allows IBOs of TLC to be rewarded quickly for introducing new customers to our products and business opportunity. Find out why so many are saying, "It really is different over here."