Mary Kay Inc. Opens New Manufacturing Facility in Lewisville Texas
November 6, 2018
By Nicole Dunkley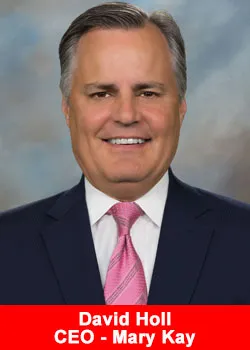 Mary Kay Inc. recently opened the doors to its new U.S.-based global manufacturing and research and development facility located in Lewisville, Texas.
To support future growth for made-in-America products, the Richard R. Rogers (R3) Manufacturing Facility —named in honor of company co-founder, executive chairman and son of Mary Kay Ash—will support the global cosmetic company's needs in producing skin care products, color cosmetics and fragrances for millions of Mary Kay Independent Beauty Consultants in nearly 40 countries.
Following an exhaustive search of potential locations throughout North Texas, Mary Kay Inc. broke ground on R3 on September 13, 2016, exactly 53 years to the day after Mary Kay Ash launched her dream company from a small Dallas storefront.
With more than a $100 million investment, the 453,000-square-foot building features state-of-the-art R&D laboratories and cutting-edge manufacturing technology. It will function as a zero waste to landfill facility.
"The opening of the Richard R. Rogers Manufacturing Facility marks an exciting milestone in our company's 55-year history," said David Holl, president and chief executive officer for Mary Kay Inc.
"Approximately 75 percent of our current business is overseas, and more than 50 percent of Mary Kay products produced at our U.S. manufacturing facility are exported to our international markets. As an innovation leader, this new facility will also allow us to continue producing best-in-industry products today, while practicing sustainability for the future."
In partnership with the Arbor Day Foundation, the iconic beauty company planted its 1 millionth tree on the grounds of R3 as part of its Pink Doing GreenSM initiative. Mary Kay Inc. also presented a $50,000 check in partnership with Texas New Mexico Power to Denton County Friends of the Family, the sole provider in Denton County of shelter and outreach services for those affected by domestic violence and/or sexual assault.
To further showcase Mary Kay Inc.'s commitment to the Lewisville community, the company announced a 10-year partnership with Lewisville Independent School District to offer a more robust entrepreneurship curriculum for Lewisville High School. Using the nationally renowned Incubatoredu curriculum, students will learn business concepts while local business leaders provide coaching and mentoring.
"In 1963, my grandmother and father founded this company in Dallas and we are proud to maintain our strong connection with North Texas," said Ryan Rogers, chief investment officer for Mary Kay Inc., son of Richard R. Rogers and grandson of Mary Kay Ash. "The Richard R. Rogers Manufacturing Facility is not only an investment in our company's future but also in our continued mission to empower and enrich women's lives around the world."
About Mary Kay
At Mary Kay, success lies in our dedication to irresistible products, a rewarding opportunity and positive community impact.  For more than 54 years, Mary Kay has inspired women to achieve their entrepreneurial goals in nearly 40 countries.  As a multibillion-dollar company, we offer the latest in cutting-edge skin care, bold color cosmetics and fragrances. Discover more reasons to love Mary Kay at marykay.com.