New TLC National Director Gisselle Dominguez Goes From 6,000 Pesos Per Month To $10,000+ US
November 7, 2018
By Nicole Dunkley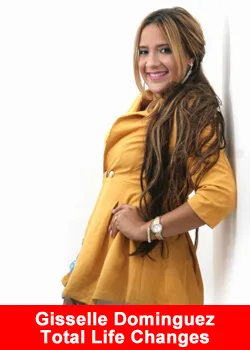 Some of the most dramatic TLC success stories have come from the developing world, where widespread poverty and underemployment drives even highly capable young people into low-security jobs with meager wages.
Just a few years ago in 2015, Gisselle Dominguez was barely scraping by while studying medicine. Despite the support of her husband, Giandy Dilone, and a large and close-knit family, Dominguez found herself forced to work a menial job that paid just 6,000 DO pesos per month—equivalent to less than $125 US.
"I didn't have much time for myself, for my family, or to dedicate a few minutes to God," Dominguez recalls. Fortunately, her twin Yinnette shared an opportunity that would truly change Gisselle's life. Yinnette introduced her to Iaso tea, and before long both sisters were dedicated drinkers. Gisselle then inquired about TLC's business plan, and before long she found herself attending a presentation in Santiago, where she met her sponsor Julio Lama.
Lama, who recently became Latin America's first male Ambassador, encouraged her to set aside her previous work and dedicate herself to the TLC opportunity.
"I made the decision to join the business on the same day it was presented to me," she says. "I was going through difficult times financially, and while I did not understand the business plan completely it felt like something really good was about to happen."
It wasn't a complete breeze: she heard the word "No" plenty of times, including from her own family. She was also still extremely short on time thanks to her demanding studies. But Lama's support, and the positive results she was feeling personally thanks to her use of TLC products like Nutraburst and Chaga, convinced her to stay the course.
She soon branded her own organization within TLC as Team Millionario/Team Millionaire, and began to seed an impressive network of Independent Business Owners. Not long after, she found that her own finances and those of her team had begun to stabilize, and then take off.
"The culture of TLC is contagious," she says. "It is dedicated to caring for all members. We are a great family." She also cites the company's "aggressive" payment plan as a positive, as it allows successful IBOs to begin generating income within days or weeks of joining the team. In contrast to prior network marketing ventures, Dominguez feels at home at TLC. She recently earned the rank of National Director, and has ambitious goals for the future.
"In the next six months we will continue to expand in the Dominican Republic and all of Latin America, including into our neighboring country Haiti," she predicts. "El #TeamMillonario will soon boast many new Nationals, Regionals, Executives, Rising Stars and Directors. My best advice to anyone getting into this line is to just choose to be the best version of yourself you can be."
About Total Life Changes
Total Life Changes offers a diverse product portfolio of health, wellness and beauty products. Founder and Tea Executive Officer Jack Fallon created TLC over 16 years ago with a single product: NutraBurst®. Since that time, TLC has continued to develop the Iaso® brand of products to include a diverse and attractive product portfolio matched with a hybrid binary compensation plan that allows IBOs of TLC to be rewarded quickly for introducing new customers to our products and business opportunity. Find out why so many are saying, "It really is different over here."