Sebastian Greenwood – OneCoin Arrested In Thailand – Now In USA Prison
November 23, 2018
By Team Business For Home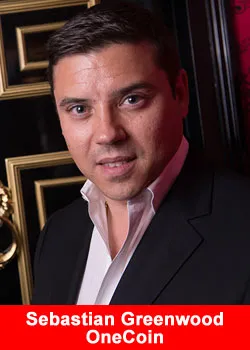 According to the Bangkok Post, Sebastiaan Greenwood the global Master Distributor of OneCoin  was arrested in Thailand by the Crime Suppression Division (CSD) early November 2018.
"The CSD also worked with the US Federal Bureau of Investigation (FBI) to apprehend Sebastian Greenwood who was wanted on a US international arrest warrant and an Interpol red notice for operating a digital currency pyramid scheme.
According to an other source Greenwood is held in New York in the Manhattan Metropolitan Correctional Center awaiting official charge by DOJ. Seems the official charges are under seal.
In an interview I had in April 2016 with Sebastian Greenwood he stated:
What was your decision factor on taking on the OneCoin opportunity as a master distributor?
First time I met CEO and founder Dr. Ruja Ignatova, discussing cryptocurrency, I had no real understanding of the industry and what cryptocurrency actually is.
After several meetings and discussions with her, I understood that she is extremely knowledgable and I learnt and still do a lot about how the fin-tech companies like OneCoin can change the world of remittances and the way people handle transactions online and can benefit by this innovative concept.
I realized that having millions of people and followers around the world for this currency is crucial. That is when I decided to join her vision and take on the challenge to build the fastest and biggest network all supporting the vision of Dr. Ruja to create the biggest cryptocurrency in the industry.
What are your future plans?
Hopefully we have done a very good job with OneCoin and we've developed substantial parts of the world and I believe I can see myself in five years time focusing more on things that I have not been able to focus on during this years of hard work in network marketing. I will assure start looking into my passions like I mentioned before I want to play golf, sailing, take care of my family and friends but of course there's gonna be new opportunities that I might look into.
I'm going to be very selective, and I've been very selective in the past. I have not had to take on an opportunity sold so fast like I did in the beginning of 2003.I believe that in five years time it's hard to say but I am now totally focused on the success of the opportunity we have today which is OneCoin and this is going to be the maximum opportunity that I have ever put my efforts into before.
I think after that I need some time to relax, take care of my family and start focusing on what I'm going to do for the rest of my life.