Ilenia Turelli From Italy Achieves Blue Diamond Rank With Success Factory – Dagcoin
December 8, 2018
By Team Business For Home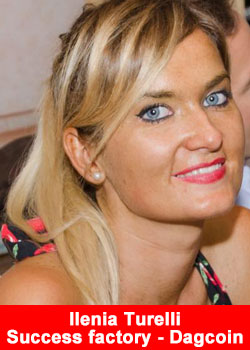 Ilenia Turelli is an Italian leader, a member of the Success4All team, who has been working in the network marketing industry for five years already.
Like many other people, Ilenia began her days in the industry looking for an alternative to her earnings as an employee and soon after, decided to dedicate herself completely to this business.
"After spending ten years working in a hairdressing salon, I was dreaming about opening my own salon, and this industry was one of the ways to make it happen. But my dream changed when I discovered that I could do much more. I discovered a fascinating world that would allow me to achieve any goal I set."
Ilenia's first experience in network marketing was in a company that distributed coffee, and she doesn't remember it as a great success, but as something necessary to learn to become successful.
"I didn't do very well, but I have to admit that it was a great school for me, excellent training. It allowed me to learn about the industry, discover my strengths and my weaknesses, but above all, it allowed me to meet people who have been very important in my life in recent years and who have had a lot to do with my growth.
I joined the team of Iulian Cimbala and started to be part of that family that is Success4All.
They opened my mind, I began to reach my goals and it helped me solve some economic hardships that my family was going through at those moments."
Ilenia is now a leader with a large team in Italy and in other parts of Europe, and she is playing a role as a mentor for new members in the industry.
Ilenia is also a businesswoman: she has been able to take advantage of her network marketing success to found her own traditional company in the fashion industry. Although she doesn't rule out undertaking in other areas. At the moment, Ilenia says, she is more focused on her Success Factory team, which has allowed her to boast several achievements in less than a year.
"Igor, Andreea and Iulian are my mentors, great leaders in whom I trust. That is why, when they told me about this opportunity, I paid as much attention as possible with an open mind.
They knew that Success Factory had great potential and were so fully convinced of it that I had no doubt. And they were right! Because it is precisely the place where I have had the best results in the sector in all these years.
And it's only been a year of operation.
It takes patience, humility, hard work and good mentors to get results. If you have the best leaders guiding and teaching you and a good company aspiring to do something different, it becomes much easier."
About Dagcoin
We are a growing and ambitious team based in Estonia, and our goal is to provide a new alternative currency for everyday use '" to create a common currency.
Our team is doing it by making cryptocurrency payments lightning fast, keeping the transaction fees unnoticeably low and creating a system as easy-to-use as possible.
When we talk about IT development, then this is a continuous never ending process because we live in the era of technology and there are so many bright minds in the world who come up with brilliant ideas all the time. We aim to implement as many of them as possible in our system. For more information please visit www.dagcoin.org