The Principle Of Proper Closing In Network Marketing
December 14, 2018
By Team Business For Home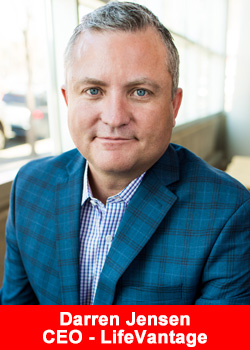 Editor's Note: Success starts with questioning everything, even our questions.
This article is part of a series by LifeVantage CEO Darren Jensen that touches on a set of principles brought about by asking questions that have challenged the industry status quo.
The Principle of Proper Closing: As 2018 draws to a close, let's talk turkey about closing
by Darren Jensen, CEO LifeVantage
I recently conducted a little experiment that required me to put my prospecting skills to the test. So, I did what any self-respecting researcher would do. I pulled out my phone, signed into Uber, and scheduled a ride. One ride became two, and two became three, with three separate Uber drivers as my sample.
I know what you are thinking: Well, that doesn't sound very scientific. (That's exactly what our head scientist would say, incidentally, so you are in good company). While I concede it being a sample of convenience, I might point out that it wasselected at random. One could also extrapolate that the probability of selection was high, assuming, of course, that all available Uber drivers were "online" and actively receiving trip requests, but I digress.
 I figured what better demographic to test my theory on – more on that theory in a moment – than one that a). is clearly entrepreneurial by nature and b). has a proven pre-disposition and penchant for additional income streams.
Subject A – I'll protect his identity in a spirit of confidentiality – picked me up outside my office and off we went. I struck up a conversation and quickly discovered that, while this particular driver had seen and was very complimentary toward some of our advertising, he had zero intellectual curiosity – neither in the business side nor the consumer side. Flattering, but strike 1.
My next subject – Subject B – was more advanced in age and had retired from his primary occupation. As he shared more about himself, it became clear that he had some health concerns and was interested in improving his health. After learning a little bit about our company during our brief time together, he became extremely interested in our products. He had taken up Uber driving to help him stay active, as well as for the human interaction.
Finally, somewhere between our Sandy City headquarters and downtown Salt Lake City, Subject C pulled up for the final leg of my trip. Late 30s. Entrepreneurial spirit. Interested in and actively seeking additional income streams and opportunities, beyond Uber.
Now, put yourself in my shoes. I'm sure many of you already have begun assessing what you would have done in each case. In fact, I'm sure each of you is faced with this type of decision on a routine basis, if not every day. That is…is it more important to enroll someone as a distributor, or is it more important to allow nature to run its course?
The path forward with Subjects A and C was pretty clear. With Subject B on the other hand, the decision wasn't quite as clear cut. Or was it?
Enter the principle of proper closing.
What I've typically found in the industry is that we tend to default to pushing somebody to become a reluctant distributor. The rule of thumb has historically been that any distributor (no matter how reluctant) is better than a passionate customer. I wanted to see for myself if there's any merit to that. If so, so be it. If not, let's shift our paradigm.
So, I dug into the data. In doing so, my theory is that closing prospects correctly and positioning them where they will best succeed – rather than trying to jam a square peg through a round hole – pays dividends in the long run…for everyone. In other words, it's not about me as the closer and what I think is best or what tradition says is best. The focus should be on what's best for the prospect. And the data corroborates that.
I did a data dive on two variables in particular: lifetime value and longevity. Simply put, lifetime value is the amount of product someone, on average, purchases from the company – excluding any commissions generated – over the course of his or her life. As we reviewed this data set and compared it against longevity, some clear patterns began to emerge.
For the purposes of our study, we defined a reluctant distributor as a distributor who joined the business without a monthly subscription order. We found that this type of distributor had a lifetime value of $768. Their average longevity with the company placing orders was 6 months.
Contrast that with distributors who joined the company with a subscription order.
Their lifetime value was $2,470 – more than three times higher than their reluctant counterparts – and their average longevity was 19 months.
They stuck around three times longer, I would argue, because they were closed properly and became a distributor truly of their own volition. They weren't "talked into" anything. It's also worth mentioning, as long as we are talking about closing, that we have found that the more robust the subscription order of a new distributor, the better the lifetime value and longevity of said distributor are. But that's a story for another time.
This brings us to the customer – people who never participate in the opportunity side of the business.
A customer's lifetime value is $855 on average, with a longevity of 11.4 months – nearly twice as long as a reluctant distributor.
Granted, a customer's lifetime value relative to a reluctant distributor's isn't necessarily mind-blowing in terms of dollars and cents, but it is11 percent higher. Now, one could argue that a reluctant distributor at least has the potential of bringing more people into the business, thereby bringing more potential value to the table overall. I would remind you that we're talking about a reluctant distributor. What we've also found in our business is that 80 percent of distributors who join never enroll anyone – not another distributor or a customer. They simply become a consumer.
Furthermore, another interesting aspect of this data dive is the fact that we only looked at customers who remained customers (not those who had become distributors later), and let me remind you that two-thirds of distributors, according to a recent DSA sales force study, were actually customers first. In other words, just because someone is brought in as passionate customer doesn't mean that that customer will never become an engaged distributor.
But I do believe that the odds of them becoming an engaged distributor are better if they, rather than a reluctant distributor, are a passionate customer first.
That is the principle of proper closing. It boils down to truly evaluating a prospect and determining what their best fit is – what their sweet spot is – because that is where they're going to thrive. Again, it's not about what, on the surface, seems best for you – it's about what's best for them.
Now for the rest of the story.
You may be wondering what ever came of my 3 subjects. Subject A and I parted ways and, as you may have guessed, we haven't crossed paths again. Subject C and I exchanged cards and he later enrolled as a distributor. Subject B was interested enough in our products that he became a customer. As he continues to become familiar with our products and convinced of their benefits, he may begin recommending them to others. Eventually, he may feel inclined to make the jump to distributorship…on his own terms. In the meantime, he's a passionate customer. And I'm ok with that.
Let me be clear.
I believe this industry is for everyone…at some point. And that's the key. We have to meet people where they are.

LifeVantage gained one additional engaged distributor and, just as importantly, one additional passionate customer that afternoon for the simple fact that they were closed properly.
All in a day's work.
About Darren Jensen
Darren Jensen is the CEO and President of LifeVantage (LFVN), one of the world's preeminent publicly-traded biohacking companies. A biohacker in his own right, Darren is an emerging authority and thought leader in the biohackersphere and field of nutrigenomics.
With nearly 30 years of experience in the direct selling industry, Darren has co-founded two DSN Global 100 companies and has served in a variety of leadership capacities over the arc of his career for multiple privately and publicly-held companies in the industry. He has been named to the Ambassador of Network Marketing Hall of Fame and has repeatedly been voted one of the top CEOs in the direct selling industry. Darren is a member of the CEO Council for the World Federation of Direct Selling Associations and also serves on the Direct Selling Association Board of Directors. He has lectured and given presentations across the globe on a gamut of issues impacting the industry.
Never one to shy away from rolling up his sleeves and getting his hands dirty, Darren also served as a volunteer firefighter in his hometown in the wake of 9/11. He has also served in a variety of roles for the Boy Scout of America. He holds a bachelor's degree in International Relations from Brigham Young University with a focus on international business development. Ever a family man, he and his wife, Carolee, are the proud parents of 5 children and grandparents of 1.