Cellements Launches BioPocket REST
January 14, 2019
By Team Business For Home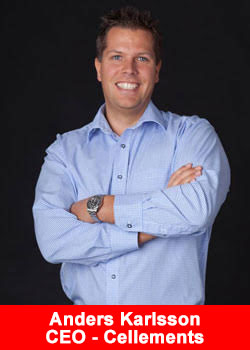 Cellements continue to add innovative products to the BioPocket portfolio where science and convenience meet.
Anders Karlsson, CEO Cellements Europe stated:
"Our latest addition to the BioPocket Brand is tapping into a huge and growing market of sleep challenges. BioPocket REST is a natural help to get back to regular sleep cycles.
We are excited about launching a new product with a solution to a growing problem rendering in a lot of side effects not just "feeling tired" but also more severe conditions and a direct connection to ie. overweight.
The U.S. "sleep market" was worth an estimated $28.6 billion in 2017. For 2018, the market should grow by 3.3%. To 2023, 4.7% average annual growth is forecast."
Biochemist Philip Wilhelmsson, Head of R&D stated:
"With Biopocket REST, we have developed a product with natural ingredients that naturally makes you feel less stressed and fall a sleep easier in a format and technology that will work every time."
Triple REST System – With 3 natural active ingredients that work in symbiosis to effectively bring calming sensation and ensure that signals are sent to the brain that it is time to fall asleep. Cellements unique ORAL up take system-A developed phosphor lipid system that ensures that almost 100% of the ingredients are absorbed through the oral membrane.
Effect within 10-15 minutes.
Prevention, B-Vitamin Complex – Added B-vitamin complex to minimise the risk of one of the most common causes of sleep deprivation (vitamin B deficiency).
Perfect dosage every-time – Custom dose that suits you. No more overdoses that makes you sleepy even the next day.
As addition to previous studies Cellements is conducting a 6 week Clinical Observation Study with Med. Dr Vasile Salagean with up to 100 people that start using the product that previously experienced problem with sleep.
About Cellements
Cellements has developed a strong business model that takes these impressive products from the pharmacies and vaccination clinics to the average consumer through its Direct Selling Partners.
As a Customer focused company, Cellements goal is to offer economical products that can be used by millions for under $0.25 per day. Considering the costs companies incur with employees and sick leave, Cellments is perfectly positioned to help alleviate some of those concerns as a solution for companies to help minimize the spread of germs among its employees.
For more information please visit Cellements.