Investview Officially Launches Kuvera France With 2,500 Attendees
January 18, 2019
By Team Business For Home
Investview Corporation (OTCQB: INVU) officially launches Kuvera France in Paris on Sunday, January 6th, 2019.
Thousands traveled to Paris to attend the official launch of Kuvera France, a wholly owned subsidiary of Investview, which was established in late 2018 to handle the significant demand for Kuvera financial education products in the European Union with the strongest demand in France.
The launch event was held at the Pullman Dock in Paris with 2,500 attendees from all regions of France. The energy was electrifying as those in attendance were often on their feet, reacting to the speakers and leaders in attendance with energy, excitement and optimism.
The event was coordinated, hosted and delivered by Samba Diagne, Leading Kuvera Distributor for France along with the support of Kuvera U.S. by Rick Rowberry, Master Distributor, Anthony Napolitano, Kuvera Leader, Rank of Legend and Corey Chadwick, Kuvera Leader, and Crypto Expert.
 Annette Raynor, Investview COO and
Chad Garner
, Kuvera President were also in attendance to address the massive turnout and officially announce the establishment of Kuvera France, a key strategic initiative for Investview worldwide growth.
Annette shared Investview's initiatives for 2019 including the launch of SAFE Management LLC, a wholly owned Investment Advisor that will provide expanded automated trading services to Kuvera customers.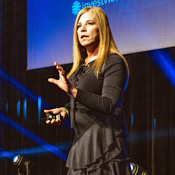 Annette Raynor, Investview COO stated:
"I am overwhelmed by the number of attendees and enthusiasm for Kuvera products and services in France.

Despite recent unrest in the city, thousands turned out to learn, collaborate and plan for financial well-being using our products.

You could feel the excitement and enthusiasm in the room and I was humbled to see the French so motivated to join us in bringing financial fitness to the world."
Led by Samba Diagne, the Kuvera France launch team included Maxime Pierre, Yacine Bachir, Mohamed Bdj, Mohamed Islem, Adnane, Laura Derrien, Adeline Le Harzic, and Nassim Maouche.
Over eight hours of presentations and training culminated in a moment of darkness, illuminated by mobile devices in a unique display of unity, with words of 'hope, gratitude and financial success for all,' delivered by Samba toconclude a historic moment for Investview and Kuvera.
Planning and coordinating an event of this size is an enormous task. Samba and his team worked tirelessly and delivered a truly impressive experience for all attendees including the Corporate Management team. The venue, content, and coordination were flawless according to Investview COO Annette Raynor.
The team met on Saturday to do a complete run-through of the launch schedule and final preparations.
 The all-day event commenced at 11 am with a full line-up of Presenters and training sessions for those in attendance with the event ending just after 8 pm.
Keynote Speakers
Samba Diagne, Kuvera France Leader delivered the Opening remarks while Yacine Bachir was the MC for the full day. Motivational interludes by Cassis Sanogo brought the crowd to their feet multiple times throughout the day providing a high level of energy and excitement. A number of Kuvera France distributors shared their personal experience and testimonials as most of them learned how to approach their finances and the concept of trading for the first time in their lives. Adnane and Yohann Raoult were among the influential and motivating presenters of the day.
Maxime Pierre, a leading distributor for Kuvera France, delivered a powerful performance igniting a charge throughout the room stressing the importance of long-term vision and the ability of individuals to maximize their own power.Maxime is the epitome of strong leaders who are young in age but not in confidence, work ethic, or conviction.
Mohamed Bdj and Mohamed Islem discussed the ability toimpact the lives of thousands by helping them to improve their financial education and create a positive and wealthy mindset. Mohamed Islem expanded the discussion of mindset demonstrating that with the right attitude and a set of well-defined goals success is closer then we could imagine.
Chad Garner, President of Kuvera shared the vision and services of Kuvera that are being delivered in multiple countries through a worldwide expansion initiative.
 "The demand, desire and execution by the French leadership team has been outstanding. Kuvera France will enable us to properly operate, expand and support sales throughout the whole European Union.

Combined with the experience and dedication of Samba and the entire French team, it is clear that 2019 is going to be momentous" 
Corey Chadwick, Kuvera Market Expert Crypto Currencies, reviewed education and trading alerts in the Crypto Currency markets. Corey also announced the launch of the "Crypto Coach" intensive training program available for an additional fee to Kuvera customers who desire an in-depth understanding of the newly emerging Crypto Currency space.
Anthony Napolitano, Kuvera Leader, Rank of Legend discussed the power of Investview, parent of Kuvera France and a publicly traded company. Anthony shared the benefits of a public entity including transparency, detailed financial reporting, annual audits and the unique ability to buy and own a piece of the company we are building.
Rick Rowberry, Master Distributor Kuvera closed the session with a motivational speech discussing "Commitment" and "Respect", two values necessary to create a movement that can change the world. Traveling to more than 70 countries over the past four years, Rick has engaged, counseled and ignited leaders around the world. Rick shares two simple messages when igniting the masses which are "Day One" and "Mission Over Money."
Kuvera has been actively preparing for the launch of Kuvera France by working to translate the majority of their educational content to French since June of 2018. Demand in the region has increased significantly month over month and now with the ability to operate from France, the team is poised for significant growth.
About Investview, Inc.
Investview, Inc. is a diversified financial technology organization. The Company operates primarily through its wholly- and majority-owned subsidiaries, to provide financial products and services to individuals, accredited investors and select financial institutions.
For more information please visit www.investview.com
About Kuvera LLC and Kuvera France
Kuvera LLC provides affordable access to valuable financial education, current market research and cutting-edge technology that enables individuals to increase and cultivate their own financial resources, enjoy life and plan for the future.
For more information please visit www.kuveraglobal.com