The Trumps Ask Judge To Throw Out Law Suit
January 16, 2019
By Team Business For Home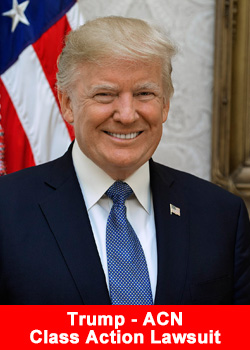 According to Bloomberg:
U.S. President Donald Trump, his company and three of his children asked a judge to throw out a racketeering suit claiming they scammed thousands of people into spending money on fraudulent, multilevel marketing ventures and a dubious live-seminar program that promised to teach Trump's "secrets to success" in real estate.
Four plaintiffs sued the Trumps in October. They asked U.S. District Judge Lorna Schofield in Manhattan to allow them to remain anonymous in the suit
because
of the president's habit of targeting his enemies on Twitter. Schofield said they could proceed under pseudonyms — Jane Doe, Luke Loe, Richard Roe and Mary Moe — at least until she rules on the motion to dismiss.
The plaintiffs claim Trump, the
Trump Corp.
and Eric, Ivanka and Donald Trump Jr. ran a "complex enterprise" that targeted working Americans and that the Trumps lent their name for use by ACN Inc., which allegedly promised low-risk business opportunities. The family members also were accused of fleecing people through a company that sold dietary supplements. The plaintiffs are seeking to represent a class of other consumers who claim they were cheated by the Trumps.
In a filing Monday, the Trumps claimed they had nothing to do with any alleged fraud.
Donald Trump provided celebrity endorsements to ACN from 2006 to 2015, but never owned or controlled the company.
And the plaintiffs haven't identified a single fraudulent statement made by any of the other defendants, the family said.
"No plaintiff is alleged to have paid or lost money to the defendants or to any Trump business, and no defendant is alleged to have solicited any plaintiff for anything,"
 the Trumps said in the court filing.
"It is undisputed that ACN — and ACN alone — through a network of ACN representatives, solicited and collected fees from plaintiffs, for the benefit of ACN."
A representative for Concord, North Carolina-based ACN couldn't be reached after business hours.
The Trumps also claimed the plaintiffs, who didn't name ACN in the complaint, failed to properly allege any conduct that would constitute violations of U.S. racketeering law and that the court lacks jurisdiction over the case.
The motion to dismiss the suit was filed in Manhattan federal court Monday by attorney Joanna Hendon, a former federal prosecutor in New York who represented Trump in litigation over documents seized by the Federal Bureau of Investigation from his former lawyer and fixer, Michael Cohen. Hendon also represented convicted inside-trader Winifred Jiau.
The case is Doe v. The Trump Corp., 18-cv-09936, U.S. District Court, Southern District of New York (Manhattan).