Total Life Changes Formally Announces Its Core Values
January 25, 2019
By Nicole Dunkley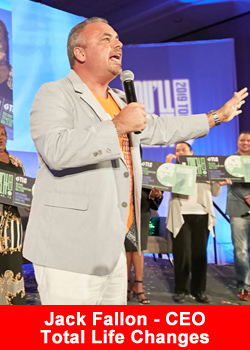 Total Life Changes has been working with LPC Group, digging deep into their business, and redefining their core values.
Over the past seven months brand therapist Ryan Lesperance and his team at LPC Group have helped TLC connect the dots between company culture, brand positioning, and with print and digital media.
"We've always known what we stand for as a company and we have expressed it internally for as long as the company has been in existence. But what we have failed to do is share this properly with our customers and our salesforce, what we now call our Life Changers.
My friend and Chief Operations Officer John Licari brought this to my attention in Spring 2018 and I dwelled on it for days. And I realized he was absolutely right. We have spent the past six to eight months making sure we communicate this effectively with the world",
explains Founder and CEO Jack Fallon.
TLC is even more excited to kick-off 2019 with their new "You'll Feel It" approach and fresh energy! Ryan and the LPC Group specialize in making everything they touch better, and they did just that with Total Life Changes.
The new branding and packaging is led by TLC's senior graphic designer, Kory Stokes and the inspiration from his team of four designers. Some of the new branding and products were showcased at the Orlando event.
TLC works every day with a vital responsibility in mind: to earn and keep the trust of their Life Changers. One of the ways they do this is by operating with a servant-leadership mindset.
This means that no one person is bigger than the company, and along with making total life changes, they wanted to make sure that was the message they were sending. They started with redefining their core values.
Ryan and his team used surveys, workshops, and even had interviews with all TLC employees in order to establish a set of core values for the new foundation of the company.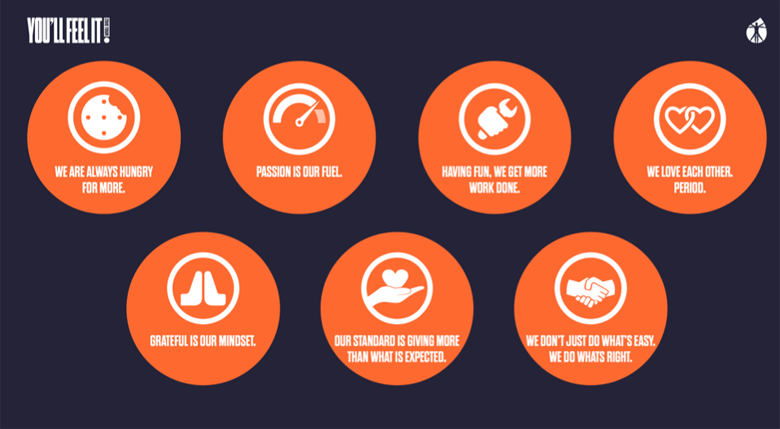 Total Life Changes Core Values:
We are always hungry for more.
Passion is our fuel.
Having fun, we get more done.
We love each other. Period.
Grateful is our mindset.
Our standard is giving more than what is expected.
We don't just do what's easy. We do what's right.
Another important aspect TLC gained from working with Ryan and his team was figuring out who they truly were by identifying their archetypes as symbols for their brand.
Dominant Archetype: Caregiver
The caregiver protects and cares for others.
Characteristics: Love, Protect, Care, Compassion, Generosity, Help, Support, Give, Nurture, Serve, Educate, Aid, Cause    
Sub-Dominant Archetype: Magician
The magician makes things happen.
Characteristics: Dream, Magic, Understand, Vision, Solutions, Simple, Invent, Leader, Transform, Expand, Modern
Sub-Dominant Archetype: Regular Guy/Girl
The regular guy/girl loves connecting with others.
Characteristics: Common, Understand, Equal, Connect, Belong, Relationship, Empathy, Neighbor, Give, Good, Solid, Real  
These archetypes define and make up what Total Life Changes is all about. They are Caregivers, as they supply others with the health & wellness products and means to succeed. They are Magicians (Life Changers), as they help people make total life changes, and their business is about connecting with others.
From expanding into new marketing and branding to using the latest technology to develop new products or enhance existing ones — TLC will continue to invest in their products, processes, and people to stay on top of the health and wellness category, especially after launching the 2019 You'll Feel It! Tour.
TLC 2019 You'll Feel It! Mission & Vision:
Total Life Changes' You'll Feel It events are focused on the importance of bringing guests and new people to TLC's life-changing events. Our mission is to continue to expose great health and wellness products, one of the industry's greatest compensation plans, and an incredible opportunity to people around the world.

About Total Life Changes
Total Life Changes offers a diverse product portfolio of health, wellness and beauty products. Founder and Tea Executive Officer Jack Fallon created TLC over 16 years ago with a single product: NutraBurst®.
Since that time, TLC has continued to develop the Iaso® brand of products to include a diverse and attractive product portfolio matched with a hybrid binary compensation plan. This allows IBOs of TLC to be rewarded quickly for introducing new customers to our products and business opportunities. Find out why so many are saying, 'It really is different over here.'
For more information please visit www.Total Life Changes.com.