Total Life Changes Hosts You'll Feel It Tour International Event In Dallas
February 26, 2019
By Nicole Dunkley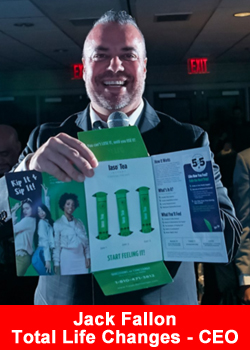 Total Life Changes is taking the You'll Feel It! Tour south and stopping in Dallas March 7-9th.
Everybody is welcome to attend Saturday's Main Event with Keynote Speaker Mel Robbins and a 2019 Jeep Wrangler Giveaway! Visit www.YoullFeelItTour.com for everything You'll Want to Feel.
Events are being held at the Hilton Anatole Hotel. TLC is kicking off the weekend with a Gala Dinner on Thursday. There, Life Changers can enjoy an evening with the TLC executive staff and TLC family with an exquisite gourmet meal, live entertainment, guest speakers, and professional photos!
Friday begins with breakout session trainings in multiple languages:
Renowned speaker & global trainer James Dentley
TLC National Directors Bill Francis, Raul Juarez, Jason L. Scott 1st, and Erika Delgado.
Corporate Affiliates John Licari, Bolivar Enriquez, and Ryan Lesperance
Shelley B. Thomas, Functional Medicine Certified Health Coach (CBD Product Training)
Following training sessions, Life Changers can join in on TLC's world-famous Fun Friday where attendees can the TLC corporate staff to recap the week and share a traditional promotion of the day.
The night will end with a traditional TLC style Meet and Greet where Life Changers can get a chance to mix and mingle with corporate staff and other TLC family members!
The first half of Saturday's event will be all about the guests! There will be special deals and offers for the Life Changers that bring the most guests, as well as special deals and offers for the guests themselves, especially if they sign up to be a Life Changer.
After the guest-focused morning, attendees can enjoy an hour with Mel Robbins, motivational speaker, best-selling author, and soon-to-be syndicated television host. There will also be top 5 product training, awards for 3 new weight loss winners, amazing success stories, and a TLC branded Jeep Wrangler giveaway!
You'll Feel It! 2019 Tour Dates:
April 26-27 Memphis, TN
May 17-18 Detroit, MI
June 14-15 Ft. Wayne, IN
July 19-20 Washington, DC
August 16-17 Ecuador
September 13-14 New York, NY
October 11-12 Louisville, KY
November 15-16 Los Angeles, California
December 6-7 Miami, FL
You'll Feel It! Mission & Vision:

Total Life Changes' You'll Feel It events are focused on the importance of bringing guests and new people to TLC's life-changing events. Our mission is to continue to expose great health and wellness products, one of the industry's greatest compensation plans, and an incredible opportunity to people around the world.

About Total Life Changes
Total Life Changes offers a diverse product portfolio of health, wellness and beauty products. Founder and Tea Executive Officer Jack Fallon created TLC over 17 years ago with a single product: NutraBurst®.
Since that time, TLC has continued to develop weight loss and wellness products to include a diverse and attractive product portfolio matched with an attractive hybrid binary compensation plan. This allows Life Changers of TLC to be rewarded quickly for introducing new customers to our products and business opportunities. Find out why so many are saying, 'It really is different over here.'