Youngevity Acquires Hemp-Based CBD Manufacturer Khrysos Global
February 15, 2019
By Team Business For Home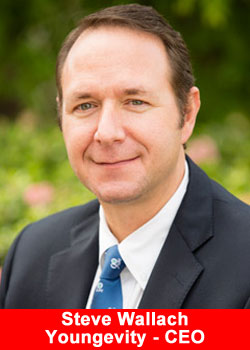 Youngevity International, Inc.​ (NASDAQ: YGYI), a leading omni-direct lifestyle company, announced today that it has entered into a binding agreement to purchase all the assets of Khrysos Global–a Tampa, Florida based manufacturer of hemp-based CBD extraction equipment.
This acquisition is intended to establish YGYI's newly formed wholly-owned subsidiary, Khrysos Industries, Inc, as a global player in the field-to-finish hemp-CBD oil, isolate, and distillate market, and also would give YGYI ownership of INX Labs and its testing facilities, allowing the company unprecedented capabilities in regards to formulation, quality control, and testing standards with its CBD products.
"I'm ecstatic about this purchase and what it signals for this moment in our company's history,"
Dave Briskie, President and CFO of YGYI said about the acquisition.
"The purchase of the assets of Khrysos Global should be the catalyst that launches YGYI into the hemp-CBD space.  We expect it will serve as a cornerstone of our comprehensive strategy as it relates to the production, cultivation, and extraction of hemp, CBD oil, as well as other CBs (cannabinoids)."
"Our agreement to acquire Khrysos is extremely exciting on a number of levels," added YGYI CEO and Chairman of the Board, Steve Wallach.
"Beyond the fact that we believe Khrysos' hemp-CBD extraction technology is far more efficient than most anything else on the market, we're acquiring a turn-key business model here.
Their systems are applicable to the entire industry and are immediately implementable across our own line of HempFX™ products, as well as in offtake agreements we have through our existing business relationships. We see this as providing not only immense value to our company, but also to our investors since we'll be selling not just the extraction systems, but also generating income servicing and operating these systems via a rental model."
The agreement to purchase the assets of Khrysos is just the latest move in YGYI's increasing stake in the rapidly growing hemp-CBD market: In January, the company entered into an exclusive cross-marketing agreement with Icelandic Glacial bottled water with the expressed intent of developing a ready-to-drink CBD product with the company.
"For us, this partnership with YGYI was a unique proposition which we could not turn down," said Dwayne Dundore, President of Khrysos. "We already have ongoing production operations and existing customers from coast-to-coast, so being able to partner with YGYI to upscale our extraction processes should provide a huge mutual benefit for both companies."
Per the purchase agreement, all assets of Khrysos Global are to be acquired by YGYI, including all real property, joint venture agreements, contracts rights, intellectual property, trademarks, copyrights, and service marks in exchange for a total consideration of $16,000,000, of which 1,794,972 shares of common stock (having a deemed value of $14,000,000) and $500,000 shall be paid at closing. In addition, YGYI agreed to issue to the principals of Khrysos, subject to the approval of stockholders and The Nasdaq Stock Market, contingent consideration warrants to purchase up to 3,000,000 shares of Common Stock at an exercise price of $10 per share upon the achievement of certain revenue and net income milestones.
The closing of the transactions contemplated by the purchase agreement is scheduled for February 15, 2019 and is subject to the satisfaction of various closing conditions. In accordance with the acquisition, Khrysos will provide ongoing consulting and advisory services to YGYI as it pertains to the manufacturing of its proprietary technology, as well as the production of both CBD extracts and finished goods.
About Youngevity International, Inc.
YGYI, Inc. (NASDAQ:YGYI), is a leading omni-direct lifestyle company offering a hybrid of the direct selling business model, that also offers e-commerce and the power of social selling. Assembling a virtual Main Street of products and services under one corporate entity YGYI offers products from the eight top-selling retail categories: health/nutrition, home/family, food/beverage (including coffee), spa/beauty, fashion, essential oils, photo, as well as innovative services.
The Company was formed in the course of the summer 2011 merger of Youngevity Essential Life Sciences with Javalution® Coffee Company (now part of the company's food and beverage division). The resulting company became Youngevity International, Inc. in July 2013. For investor information, please visit YGYI.com. Be sure to like us on Facebook and follow us on Twitter.