Sanki Global Expands Worldwide
March 8, 2019
By Team Business For Home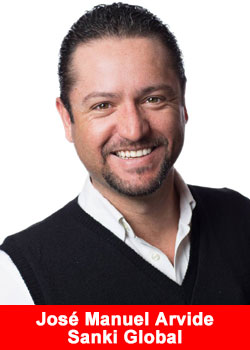 After 9 years of hard work, dedication, and hardship, Sanki Global is in the midst of a major global expansion lead by Sanki US.
Sanki began as a dream empowered by the destiny of two visionary engineers, Alejandro López Tello and Dr. Bejit Edeas, and has become a powerhouse of direct selling in both Mexico and Colombi .
José Manuel Arvide, Sanki USA Director, has one mission in two parts, to live each day to the fullest and to give value to the community.
In doing so, he hopes to educate the people around him to grow and develop through his many years of MLM success. It was only natural that José Manual would be appointed Director to bring the global focus to Sanki US after a long-standing professional relationship, as a Consultant and Distributor, with Alejandro López Tello.
At Sanki, the focus is to help each individual develop their Intelligent Force. Intelligent Force refers to the strength within you, that provides you with the ability to be successful in any endeavor through your instinctive determination and mental health.
Sanki is also committed to health, transparency, and sustainability; investing continuously in the science of each product with the care execution of extensive clinical trials.
Sanki US captures the essence of health by building an even stronger foundation through a line of 4 core products: BelAge, Kronuit, Inner7, and Hasaki which are contained together in the flagship 10D Intelligent Nutrition System. Each product provides you with vital energy, minerals, and balance while exemplifying the values of the company.
They support Sanki's efforts to create a community of individuals who all strive for the same objective; a healthier life.
The Sanki US Pre-Launch Leaders Program is a special outfit for the upcoming launch in Spring of 2019. These top leaders are provided with the opportunity to start living their dreams and further their careers in ways never thought possible. Space is limited and ONLY 500 people will be allowed to participate on a first come first serve basis.
About Sanki Global
Sanki Global is a provider of health care supplements incomparable to others currently on the market. Rooted in nanotechnology, our products are created in a renowned lab with a patented fermentation process – Organic, Kosher, and BSCG certified. With a worldwide influence, Sanki Global's reach spans from Japan and France to the United States, Mexico, and South America.
Follow Sanki US on Instagram @sankius, contact our office, or visit mysankifit.com/prelaunch for additional information on the exciting things to come.