The BüüM Foundation Provides 150,000+ Servings Of Nutrition To Children
April 18, 2019
By Team Business For Home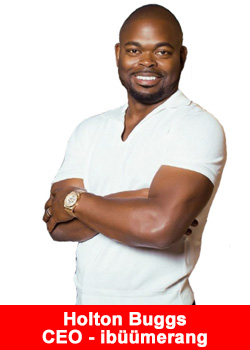 The BüüM Foundation, the giving arm of ibüümerang, is excited to announce that they have given the funds to provide over 150,000 servings of proper nutrition to some of the world's most vulnerable children.
Before the launch of ibüümerang just over one month ago, Chairman and CEO Holton Buggs knew that ibüümerang's impact would be global, and he wanted to be certain that the philosophy of giving back was at the heart of the ibüümerang culture. Mr. Buggs enlisted the help of his longtime friend and one of the world's acknowledged experts on social entrepreneurship, Peter Hirsch, along with a top-tier board of directors.
A discussion between Holton Buggs and Peter Hirsch over a decade ago led to the establishment of a powerful giving movement within the network marketing industry. But Mr. Buggs wasn't satisfied.
"Giving out of an abundance is great. All giving is great," said Holton Buggs, "but what if we really made giving a part of the culture?

If we do that, we could make a global impact that this industry has never seen. And I know of nobody more passionate, or more equipped, to accomplish this than my dear friend Peter Hirsch."
Peter Hirsch has had many roles in his life: Senior Pastor, Attorney, Best-Selling Author just to name a few. But none have excited him like this current mission. As Chief Giving Officer of The BüüM Foundation, Peter stated,
"Our impact will be global and it will be massive." Peter continues," Success is great, and we wish that for all of our Travel Savings Ambassadors.

But success is what happens to you; significance is what happens through you. And together, we will build a company of genuine success and radical significance."
Along with providing over 150,000 servings of proper nutrition through MannaRelief, The BüüM Foundation also donated the funds necessary to build a playground in Columbia through Children International. You can learn more about our giving partners on their websites:
Mr. Buggs announced a company promotion today to further support the giving efforts: for every büümerang a customer activates (for those not yet familiar with ibüümerang, that simply means every customer who registers their free website that gives them access to behind-the-curtain travel discounts), an additional serving of proper nutrition will be donated. Holton believes that ibüümerang will provide well over 1,000,000 servings within a matter of months.
The Vision Statement of The BüüM Foundation is clear: An abundant life for every child on the planet.
 About ibüümerang:
Launched in March 2019, ibüümerang is fast becoming a global leader in the travel and direct selling space. The mission of ibüümerang is simple: deliver good will in the form of travel savings and reward our Travel Savings Ambassadors (TSAs) with travel savings bonuses in cash. The vision is to create a consumer centric model focusing on an exceptional customer journey and experience.
By creating a worldwide movement of TSAs, we will empower people from all around the globe to live life to the fullest, earn residual income via the PRIB (Perpetual Residual Income Builder) and leave a legacy to future generations.
For more information on ibüümerang, its Chairman and CEO Holton Buggs, its top tier executive team and its revolutionary travel program, please visit the company website at www.ibuumerang.com.