Top Income Earners Nat And Chanida Puranaputra Start New Company
April 20, 2019
By Team Business For Home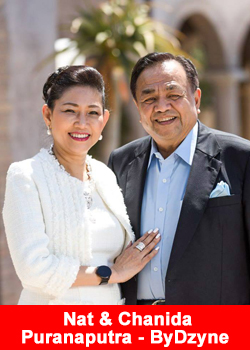 Nat and Chanida Puranaputra are widely considered by many as the most influential power couple in network marketing.
More than once they have held the titles of Top Income Earners and Leaders of the Year in their respective companies, and in their last company became the #2 Global Direct Sales Earners in the entire world, and did so in just under a year.
With over 40 years of combined experience, they have provided international training, leadership, and mentorship in over 120 countries and have personally helped to create many millionaires and multi-millionaires around the world.
Nat & Chanida's passion, energy, and servitude are infectious and their desire to help people reach their dreams and attain financial freedom will be an enduring part of their legacy.
That legacy continues to this day. This week, Nat & Chanida announced that they are entering a new chapter and pioneering a vision that has long been on their hearts to fulfill; to start their very own company, named ByDzyne™.
We have always been driven to help others and lift people up,
explained Chanida, as she sat next to her husband, Nat.
We have been blessed to not only experience the incredible lifestyle benefits that success in this industry affords, but to also to help many people reach their financial and lifestyle goals.

Despite the incredible journey, the amazing relationships that were forged, and the life-changing stories that were made, we always felt limited in fully realizing our vision and purpose, simply due to the fact that we didn't retain ownership, and therefore decision-making power, in the companies we were promoting.
 Our heart has always been to maintain integrity, honesty, and authenticity in business, and to continually create value for our customers and promoters. However, at times conditions can develop within a company that challenge this core business philosophy. Those are some of the most difficult circumstances we have faced in this profession, and they have unfortunately resulted in us having to make the tough decision to part ways.
Regardless, our resolve to remain uncompromised is of the utmost importance.  We are simply not willing to sacrifice our conviction and the people that make this profession worth fighting for.
Tickets for the Grand Opening can be ordered here
Last year, the writing on the wall became apparent. We knew it was time to build something great– something different– something that is truly customer and leader-centric, and gives us the freedom to build a healthy company culture from the ground up.
With ByDzyne™, we are raising the bar higher, and providing a environment, platform, and community that will be a launching pad to help people reach beyond the limits that previously held them back.
We are extremely excited about the strong partnerships we have formed and the corporate company structure we have compiled to make ByDzyne™ a huge success. We knew it was time, and we believe everything in our life has led to this moment."
Nat & Chanida have brought together an all-star corporate executive team of industry professionals who have achieved the most prestigious accolades in their respective fields over the last 25 years, including:
Over 150 years of Field/Corporate Leadership Experience
Over $20 Billion in Field/Corporate Sales
Over $150 Million earned in the MLM industry
In the coming days and weeks, you will hear their names and read their incredible individual stories. They will be sure to inspire you and show you just how solid of a foundation is being laid with ByDzyne™.
"We firmly believe that the people we have partnered with will pave the way for many people around the world to create their biggest success stories yet. We are a trend-setting company that will always be on-point and stay ahead of the curve,
remarked Nat, further expounding upon his wife's message.
"We strongly hope you keep a close eye on what we are doing and consider reaching out to us to be part of the movement we're creating. You are our inspiration. This is our legacy. Let's build something remarkable together."
About ByDzyne™
ByDzyne's multi-faceted approach disrupts the traditional industry model by first understanding that one size DOESN'T fit all. You were born into a particular culture, with unique tastes, interests, and desires. ByDzyne™ was created with a mission to celebrate your uniqueness and empower your extraordinary potential.
Our exceptional "culture-crafted" products meet distinct needs in key consumer markets, and our lucrative business opportunity was formulated to fuel your ideal lifestyle, as YOU see fit.
Our visionary leadership wanted to create an unparalleled company with your individual needs in mind, whether as a consumer or Brand Ambassador. This customizable approach is a driving force that propels everything we do and will do in the future.
We are launching into not one but FOUR of the fastest growing multi-trillion dollar industries, creating one of the most explosive opportunities in the market, starting with technology, beauty, wellness, and travel.
Our mission is to continue to expand our global footprint into multiple verticals to maximize your income opportunities, capitalize on trends, and gain market share in upcoming industries as they advance. Soon we will be adding a digital category to our product lineup, further strengthening our value proposition.
Through ever-evolving innovation, and with utmost integrity, our experienced executive team strives to stand apart from the pack, and build a legacy you can be proud of; one you can truly call home. We are ByDzyne™. Where limitations don't exist. For more information please visist www.bydzyne.com