JIFU Launches With Over 33 Countries Represented
May 26, 2019
By Team Business For Home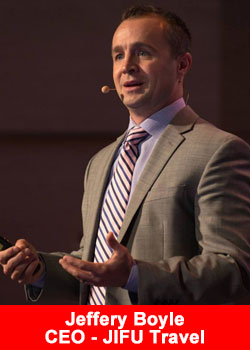 JIFU Travel, a provider of wholesale and vacancy travel has announced affiliates from over 33 countries have joined the company since its pre-launch kicked off in March 2019.
With tens of thousands of affiliates around the world, JIFU is making it easy for people to save money on products, activities and services that they are already buying.
JIFU's mantra is simple, "earn money by helping people save money on products and services they know and love."  With the advent of powerful online shopping portals, traditional network marketing business model bottom lines have been negatively affected due to easy access of information and low-ball, competitive pricing from public shopping sites. JIFU is already changing this through membership-based, wholesale access to products and services, to fulfil the needs of the marketplace.
The company was developed with three founding principles:
Members and Member Affiliates will save money
The compensation plan will be simple and highly rewarding (up to 65%)
The company (JIFU) will be honest and transparent
John Lucardie, the company's top earner and first affiliate to have reached one of the highest levels in just his first weeks, explains why JIFU is different.
"Too many times in this industry, companies are developed with the idea of maximizing company profit first. In complete contrast to this, the executive team at JIFU believes that by maximizing consumer value first we are creating long term stability and income for our affiliates.

I see this first-hand in the field with JIFU's authentic transparency resonating with industry leaders as well as the brand-new affiliate who are just starting out."
JIFU's compensation plan was developed by long-time industry expert, CEO Jeffery Boyle, who is a million-dollar earner, both in the field and as consultant, assisting 12 companies in both American and International expansions that have gone on to do sales all over the world accounting for billions of dollars.
Jeffery explains the purpose behind the JIFU's unprecedented payout,
"For too long companies in direct sales have based their payout and pricing on what was done decades ago. The world has changed but the industry has not kept up. Basing a compensation plan on products and services that are priced far above market value is an old idea that is proving to be the downfall of many direct sales companies.

Our plan is simple, pay out up to 65% as fast as possible by focusing on sharing products and services that people already enjoy at highly discounted prices. Similar to the largest and fastest growing traditional businesses in the world, JIFU is able to avoid distribution and logistical costs enabling us to pay more, offer better prices and truly provide a value to our members and affiliates."
In addition to providing travel rates that are superior to other companies and traditional sites, the JIFU compensation plan is designed to pay out up to 65%. JIFU's binary compensation plan has an outstanding weekly cap of $250,000 paid on 20% of the lower volume leg. By providing a true dollar per point commission calculation and a simple pay plan, JIFU provides an exciting and transparent opportunity. For more information, click on the opportunity link here.
The lifestyle plan at JIFU is also generous and straightforward. JIFU offers an industry leading pay-out that includes a monthly travel reward bonus (up to 30% of monthly fees), first order bonus, a simple binary (up to 20% of revenue pay leg), matching bonuses 10 levels deep, 4X unilevel bonus, one of a kind "jetsetter" bonus (company pays for leaders' travel) and global leadership pools.
The leadership team at JIFU is unmatched, with international expansion, marketing and operational excellence that has led other companies to billions of dollars in sales from multiple countries around the world. A statement from JIFU COO, Doug Allen,
"I have worked with five different companies and expanded to over 60 countries during my twenty-seven-year career in the industry, never have I seen a company more poised to be uniquely relatable to so many different cultures and people.

With the mantra of earning money by helping people save money, this is an ideal that anyone, anywhere- at any income level, can appreciate and be part of. Today we are showing people how to save money in travel, just watch to see what we will do next!"
About JIFU
JIFU is a company that provides all affiliates around the world access to vacancy travel in hotels, flights, resorts, cruises, rental cars, reward credits, concierge services, activities and excursions. JIFU provides best-in-class travel savings and a compensation plan that is unmatched in the industry. For more information please visit www.jifu.com