Jifu Travel Launches Network Marketing Opportunity
May 24, 2019
By Team Business For Home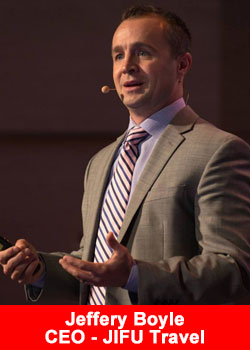 JIFU Can Accept and Pay in Cryptocurrency
JIFU Travel, a provider of wholesale and vacancy travel, has announced that affiliates can join, pay monthly membership, pay travel costs and also receive weekly, monthly and all other commissions in cryptocurrency (Bitcoin and Ethereum).
With the advent of international growth and the desire for quick, secured transactions, all JIFU affiliates will have this option regardless of where they live. Although credit cards and other traditional payment options are still possible, the ability to do all things in Bitcoin creates flexibility for JIFU affiliates around the world.
Doug Allen, JIFU COO, states,
"Our affiliates have asked for this currency option and we have delivered. It is important all regions of the world have the ability to quickly and securely receive and pay in cryptocurrency.

As far as we know, there is not another travel opportunity that has as good of pricing, as strong of a lifestyle plan and can pay in crypto like JIFU"
Since JIFU's launch, affiliates from over 33 different countries have enrolled and are enjoying the benefits of JIFU's powerful system. With true vacancy and wholesale pricing, JIFU has committed to providing products and services without a mark-up in cost from the company. With a transparent membership model, prices JIFU affiliates see are the exact prices provided by the wholesale companies.
In addition to providing travel rates that are superior to other companies, JIFU's compensation plan is designed to pay out 65% of revenue. JIFU's binary compensation plan has an outstanding weekly cap of $250,000 paid on 20% of lower volume leg (minimum volume of $1,000,000 per leg). By providing a true dollar per point commission calculation and a simple compensation plan, JIFU offers an amazing and transparent opportunity.
Today's announcement will help improve access to affiliate compensation and offer quicker access to their funds.
"We are a company that believes in being responsive to the needs of our affiliates. Giving our affiliates the ability to do all things in cryptocurrency increases compensation flexibility and global pay-out options.

JIFU is revolutionizing affiliate payment processes in the industry and we will continue to innovate our services for future expansion and global growth,"
stated Jeffery Boyle, CEO of JIFU.
About JIFU
JIFU Travel is a company providing all affiliates around the world access to vacancy travel prices through hotels, flights, resorts, cruises, rental cars, reward credits, concierge services, activities and excursions.
By providing best in class travel savings and a compensation plan that is unmatched in the industry (65%), JIFU is disrupting the travel industry and opening access to incredible prices for tens of thousands of adventurers around the globe. Please click on opportunity link here.