Total Life Changes Regional Event, Changes Detroit
May 30, 2019
By Nicole Dunkley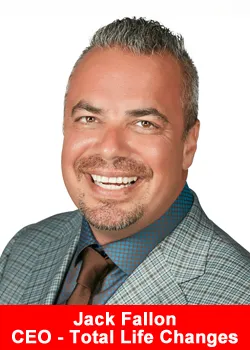 Total Life Changes brought the latest and greatest products, tools, and community to our home turf in Detroit on Thursday, May 16th through Saturday, May 18th. The weekend was filled with fun, training, and inspiring stories of everyday people bettering their health while also providing a better financial outlook through sharing the amazing products and community that make up Total Life Changes or TLC.
The weekend started out on Thursday the 16th with a live weekly broadcast called 'Tea Talk' at the TLC headquarters located at 6094 Corporate Dr, Fair Haven, MI. Visitors returned early for tours of the facility. There was a catered brunch, bounce house for the children, TLC corporate merchandise store, and TLC's famous "Fun Friday" event broadcasted right from HQ.
Fun Friday is broadcasted on Facebook live every Friday at 2:00 pm EST, where the corporate staff celebrates accomplishments, hosts games and giveaways, and most importantly, has a lot of FUN! The event continued into the evening at the Motor City Casino Hotel with training sessions and a meet and greet at the Amnesia Club located on the 16th floor overlooking the downtown Detroit cityscape.
Saturday morning started early back at the Motor City Casino with motivating messages from many of the corporate executive staff, including our CEO and Founder Jack Fallon, COO John Licari, and CCO Scott Bania. The event then moved to the success stories of actual TLC Life Changers who recently won a transformation contest.
The winners were Talinthia Bolding, Shane Smith-Robinson, and Marsha Anderson. Their individual stories were shared, and there wasn't a dry eye in the house because of the physical, mental, and spiritual transformation brought about by means of the TLC products and community. Many were inspired to join the TLC family throughout the weekend, and begin their total life change.
You're Amazing Award
At each event, one corporate staff member is awarded the, "You're Amazing Award." There was a surprise in store for the Detroit event. The team surprised Jack Fallon with the award in his hometown. His wife and children attended the event to join in on the celebration. Many shared warm thoughts of what Jack has done for them personally and individually. Again, another time for a tissue. Jack was completely surprised, but all who were at the event knew it was the perfect choice at the perfect time.
Giving Back
In celebration of Mental Health Awareness Month, the weekend was all about giving as well. Money was donated Online and by many who were attending the event. The total was matched by the Fallon family to be donated to NAMI Detroit. NAMI strives to reduce the stigma surrounding mental health treatment and promoting the benefits of physical health as a support. By the end of the weekend, TLC was able to hand over a check of $2,600 to NAMI Detroit.
TLC knows how to have fun
A significant amount of training and successes were shared throughout the day, but TLC always knows how to end with a bang. The event ended with some giveaways along with FREE TLC gear being launched into the crowd of attendees. Many left with brand new TLC t-shirts and other TLC branded gear. It was an event for the record books.
How we do it
TLC doesn't just talk a big game, it is lived out faithfully by following seven core values. TLC has published who they are at the core and strive to stay true to that understanding with every event, broadcast, and personal interaction.
The seven core values are… We are always:
Hungry for more. Passion is our fuel.
Having fun, we get more work done. We love each other. Period.
Grateful is our mindset.
Our standard is giving more than what is expected. We don't just do what's easy. We do what's right.
This foundation has put TLC in a category all of their  own by linking up great products with a great community of like-minded, value-driven people. In April of 2019, TLC was recognized as one of the "Best places to work" by Direct Selling News. "This is an honor and a privilege that is not taken lightly, and we understand receiving this award is in direct relation to our adherence to the seven core values," says Founder & CEO Jack Fallon.
One of the ways TLC keeps these core values from just being words on a wall is by providing ways for the staff to "keep them alive." There are stations throughout TLC HQ where team members can submit situations that they have witnessed or been a recipient of another team member supporting, celebrating, and/or protecting one or more of the seven core values. Here is an example of a "Keep it alive" submission.
Who did something amazing?
Sandra
What did he/she do?
Sandra works endlessly to make sure our call center is running smoothly. Always trying to improve the work experience and asks us our opinions genuinely to be able to provide a great office life. Also is amazing for managing staff during events making sure we are fed/rested/happy while maintaining a functional and proper event experience.
About Total Life Changes
Total Life Changes offers a diverse product portfolio of health, wellness and beauty products. Founder and Tea Executive Officer Jack Fallon created TLC over 17 years ago with a single product: NutraBurst®.  Since that time, TLC has continued to develop weight loss and wellness products to include a diverse product portfolio matched with an attractive hybrid binary compensation plan. This allows Life Changers of TLC to be rewarded quickly for introducing new customers to its products and business opportunities. Find out why so many are saying, 'It really is different over here.'