ByDzyne Opens It's Second Asian Headquarters In Hong Kong
June 5, 2019
By Team Business For Home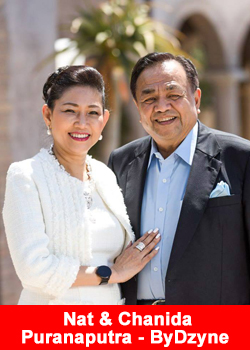 After a successful launch in Bangkok, Thailand on May 20th, ByDzyne™ continued with its celebratory momentum as it set up base in Hong Kong. On the 24th of May, ByDzyne™ opened its second Asian Headquarters in Kowloon, Hong Kong.
This was seen as a milestone event, as it firmly roots the presence of ByDzyne™ with the potential to dominate the MLM market in East Asia.
"Hong Kong is an important hub for us in Asia and that's why we chose it to be our second country right away,"
says Chairwoman Chanida Puranaputra.
"We have our office located in the city of Kowloon – the busiest district Hong Kong, right across the stunning Shangri-La Hotel.

We wanted to make it known that ByDzyne™ is fully invested in Hong Kong, and having an office here was the best way to do it.

We did not want to start operations without a place for us to interact with our affiliates. This is our assurance to them – that we are dedicated in helping them build a robust business and a bright future."
The ByDzyne™ headquarters was inaugurated among much fanfare as attendees witnessed a lively cultural lion dance symbolizing good luck, prosperity and wealth. This was followed by a ribbon cutting ceremony and officiating the event were Nat and Chanida Puranaputra, Chairmen and Co-Founders, along with Sophia Wong, President and Co-Founder.
For Sophia Wong, the office opening was a homecoming she would never have dreamed of, growing up in Hong Kong.
"I invited my 87 year old mother to share this very meaningful moment with me. Being that I was born in Hong Kong, it was amazing to go back on such a significant occasion – launching this amazing company with such brilliant partners.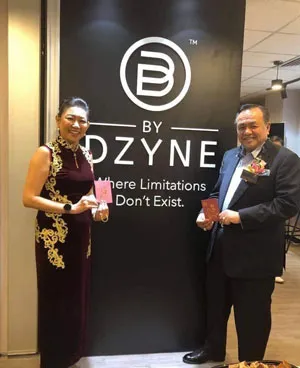 Never did I imagine as a young girl in Hong Kong, coming from such humble beginnings, that one day I would have an office literally across the street from the Shangri-La Hotel in Kowloon."
The event was the realisation of a dream for all those in attendance. Guests and VIPs included over a hundred leaders excited about the prospects in Hong Kong.
And much to the reputation that precedes them, the co-founders, all natural leaders in their own right, made the first official business introduction an impactful one.
By the end of the event, guests from the Philippines, Japan, India and the USA were already equipped with all the tools necessary to break into their respective markets.
Ending the day on a positive note, all the guests who attended the opening ceremony were gifted the lucky red pocket or "lai see" denoting the lucky beginning of ByDzyne™.
About ByDzyne
ByDzyne's multi-faceted approach disrupts the traditional industry model by first understanding that one size DOESN'T fit all.
You were born into a particular culture, with unique tastes, interests, and desires. ByDzyne™ was created with a mission to celebrate your uniqueness and empower your extraordinary potential. Our exceptional "culture-crafted" products meet distinct needs in key consumer markets, and our lucrative business opportunity was formulated to fuel your ideal lifestyle, as YOU see fit.
Our visionary leadership wanted to create an unparalleled company with your individual needs in mind, whether as a consumer or Brand Ambassador. This customizable approach is a driving force that propels everything we do and will do in the future. We are launching into not one but FOUR of the fastest growing multi-trillion dollar industries, creating one of the most explosive opportunities in the market, starting with technology, beauty, wellness, and travel.
Our mission is to continue to expand our global footprint into multiple verticals to maximize your income opportunities, capitalize on trends, and gain market share in upcoming industries as they advance. Soon we will be adding a digital category to our product lineup, further strengthening our value proposition.
Through ever-evolving innovation, and with the utmost integrity, our experienced executive team strives to stand apart from the pack, and build a legacy you can be proud of; one you can truly call home. We are ByDzyne™. Where limitations don't exist. For more information please visit www.bydzyne.com.