Casmire Okafor From Nigeria Achieves Diamond Elite Rank With Rain International
June 9, 2019
By Team Business For Home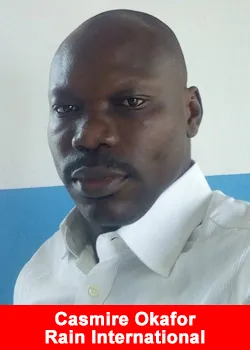 Casmire Okafor has made history again – by becoming the first person in Nigeria to achieve the very prestigious rank of Diamond Elite with the Rain International MLM company.
That comes less than two months after he achieved the rank of Sapphire Elite, and barely three months after entering Rain's Elite circles when he achieved Pearl Elite status.
He has certainly come a long way indeed – from working for $1 per day as a young man, to being the most prolific team leader (for this network marketing company) in Nigeria.
In the process he has also shown that virtually anyone can make it in MLM if they put their minds to it. After all, network marketing is very much like any franchise business: You take a proven business model and run with it. The only difference is that it costs a lot less to start an MLM business than it costs to start conventional business.
Casmire did make his share of mistakes along the way – specifally in his earlier years. When he started in network marketing he had no idea of the concept of investing in his team. It cost him dearly. But he learned from it, and moved on. Today, the members of his Rain International downline can learn from his harsh experiences – and avoid making the same mistakes.
He only started overcoming his mistakes and failures, and achieving real network marketing success, once he acquired a mentor – someone who would guide him in the right direction. To this day he firmly believes that having a mentor is the only way that any new recruit is likely to be successful in MLM.
His own experiences speak volumes.
Under the guidance of his mentor he built a substantial network in GNLD – over a period spanning more than a decade.
When he came across the Rain International MLM opportunity, though, he immediately saw the potential. Combining what he learned from his mentor (and from experience) with the incredible products and solid compensation plan of Rain, he moved up the ranks in leaps and bounds.
However, since he was (by that time) capable of mentoring others, he was able to make a huge impact on the success of his team members. Many of them quickly rose through the ranks as well, resulting in Casmire's MLM network containing many distributors at various degrees of achievement.
It was his mentorship, and their successes because of it, which ultimately catapulted him into the ranks of Elite achievers at Rain International, and which now carried him to the rank of Diamond Elite.
As Sun Tzu (author of the classic book "The Art of War") said:
"I do not fear an army of lions lead by a sheep. I fear an army of sheep led by a lion."
Casmire has proven, over and over, that – with proper mentoring – ordinary people can achieve extraordinary things. When you combine the right mindset with a good network marketing opportunity, and a mentor like Casmire Okafor guiding you, success is no longer a pie in the sky – it is simply something you work towards, knowing it is within your grasp.
About Rain International
Rain International is the original creator of seed-based nutrition. Our experts have gone to the source of plant nutrition to formulate products proven to support healthy lives.
Rain International is more than the products we sell. From the beginning, we set out to make changes to improve the world around us starting with the health industry and moving beyond its borders into global sustainability, education initiatives, elevated lifestyles, and more.
We believe that the ultimate human experience we all crave is within everyone's reach, and we don't mind leading the way.
For more info please visit www.rainintl.com.