Speaker and Business Strategist James Dentley Praises Total Life Changes
July 11, 2019
By Nicole Dunkley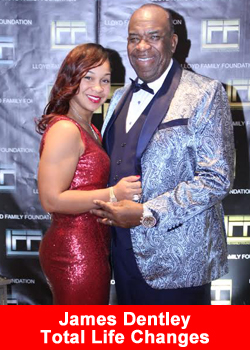 Communication is at the core of our existence. World-renowned professional speaker, trainer, author, entrepreneur, business strategist, and now Total Life Changes Ambassador James Dentley knows a thing or two about communication.
As a successful entrepreneur for over 30 years, James has helped over 400,000 people throughout the world learn what it takes to become high performers in their business and personal lives, and TLC is thrilled to have him as part of their growing team.
I am truly blessed and thankful for the gift God has given me to effectively communicate, connect with others, and help companies and people find their potential. We all are perfect within our imperfections. We have a spirit of power and greatness that resides in all of us. Everyone matters and every life makes a difference.
James joined TLC in December 2013 and at that same time, he was busy expanding his own company. He saw a vision and opportunity to help so many people that were struggling with their health and it all just made sense.
"I also realized the timing was right because the company was young in the USA but had an established track record outside the USA. The products could help so many people," said James.
As the business strategist, entrepreneur, and professional he is — he knew that if it worked he would be very successful. His wife, Kara Dentley is a National Director with TLC and their two children, Paris and James IV are all in the business and they stand by the products — James tried the tea and lost 9 pounds in 5 days!
"I'm here to inspire others to share our message of hope, inspiration and a healthy life. I want to help people discover a company that has integrity, vision, and products that bring real results," said James.
James has been a part of four companies in the last 25 years, each of them was awesome in their own way, but nothing compares to TLC. In fact, they not only have a fantastic company culture, but they also have the best compensation plan James has experienced in this industry.
What sets TLC apart is their heart! The people at corporate really care about their people in the office and in the field and they love being there. With superior products and continued growth, the most powerful thing that I see is the future!  TLC is just getting started and I believe TLC will be around for decades to come!
Most MLM industry companies only recognize their top money earners. At TLC, everyone gets recognized and awarded for their successes — whether it's being a top earner or having the best weight loss results.
The company culture is anchored in their core values and under the leadership and vision of Founder Jack Fallon, they are always seeking ways to become better without compromise and make it fun while supporting and recognizing their people. At TLC even a new person with or without a team is a winner!
As stated above, James has shared the stage with the best across the world. He has been in business for himself for over 30 years and has trained over 400,000 people in audiences around the world to become successful in their professional and personal lives. Not only that, but he has also helped many companies to excel in the areas of training, profitability, communication, and leadership development, and he's joined TLC to help you make some total life changes!
"Surround yourself with the dreamers and the doers, the believers and thinkers, but most of all, surround yourself with those who see greatness within you, even when you don't see it in yourself."  – James Dentley 
About Total Life Changes
Total Life Changes offers a diverse product portfolio of health, wellness and beauty products. Founder and Tea Executive Officer Jack Fallon created TLC over 17 years ago with a single product: NutraBurst®.  Since that time, TLC has continued to develop weight loss and wellness products to include a diverse product portfolio matched with an attractive hybrid binary compensation plan. This allows Life Changers of TLC to be rewarded quickly for introducing new customers to its products and business opportunity. Find out why so many are saying, 'It really is different over here.'
To get more information, facts  and figures about Total Life Changes, click HERE for the Total Life Changes overview.