Jörg Haupt Joins Enhanzz Global As Vice President Strategic Projects
August 16, 2019
By Team Business For Home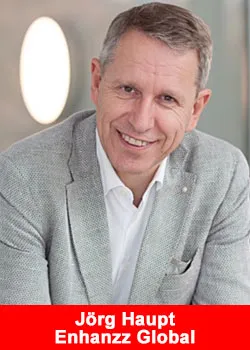 This week, only days after the company celebrated its 1st birthday, the start-up from Switzerland ENHANZZ GLOBAL announces that they have strengthened their Corporate team with
Jörg Haupt
as Vice President Strategic Projects.
Jörg looks back on an impressive 30+ year career in direct sales, both in the financial sector, where his organization reached Euro 600 million annual turnover, as well as in the consumer product sector.
The innovator and crystal-clear thinker sees a huge opportunity for himself with Enhanzz, by becoming part of a future giant at a very early stage.
"I was always an enabler and what I learned about this company is, that it already has all it takes: The initial positioning relative to its world-class products and brand, its impressive strategic partnerships,

financial strength, as well as the current business growth, combined with the clear vision of the founders – a perfect set-up."
Jörg will oversee and professionally structure the diversified business model of the company which he himself named "Shared Entrepreneurship": Its all about streamlining the direct sales arm, supporting retail-oriented partners in their B2B approaches and strengthening the companies strategic partnerships, like the one with the
Royal family of Abu Dhabi
, a major achievement at that young stage in itself.
ENHANZZ GLOBAL is currently experiencing some major growth due to some international leaders joining the company.
Dr. Sven Goebel
, CEO states:
"While we have had a great start, but still quite some people were also sitting on the fence, watching how our first year would go.
This is now changing quickly, as we are breaking through. Meanwhile, we are getting on the radar within – and outside – the industry. 2019, our first full year, is starting to over-exceed expectations, and 2020 should be a "hockey stick year" for the company.
We are extremely excited having attracted such an experienced professional like Jörg for the massive growth and expansion ahead of us".
About The ENHANZZ Holding
The ENHANZZ Group of companies is a 2018 inaugurated, European based consumer product and distribution company group from Switzerland.
The founders Dr. Sven & Audrey Goebel and Sven & Christina Hennige, heavyweights in both the direct sales and corporate field, believe that it was the right time to launch that modern, tech-oriented, consumer-friendly global company group from Europe.
By identifying as Swiss-based, they are making their own commitment to exceptional standards in every aspect of the company's products and operations, offering fashionable, high quality, Swiss-made consumer product lines.
About HANZZ+HEIDII
The exclusive HANZZ+HEIDII natural vegan skincare line for "HIM" and "HER", is a cutting edge, active symbiosis between nature and biotechnology, including its proprietary "Magic Swiss Code" formula, and its "Made Without" referring to its commitment that all products are non-animal tested and free of any harmful irritants and additives.
Currently, there are 9 products available for "HER" including a cleanser, serum and day/night cream; 4 for "HIM" also featuring a cleanser and serum  plus 1 unisex facial mask. For more information please visit www.hanzzandheidii.com and www.enhanzz.com