Oluremi Sano Offers Helping Hand & Joins Total Life Changes
August 22, 2019
By Nicole Dunkley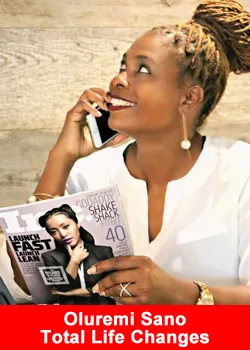 Oluremi Sano's passion is to give. Not only is she a single mom, but her background as a professional dance instructor, as well as an award-winning grant writer and strategic planning professional pushes her to be better every single day.
Oluremi was a nationally known professional dance instructor for 25 years and owned a premier dance studio in Atlanta and Dallas for 16 years.
In 2004, she was introduced to the direct selling business and now joins Total Life Changes with years of part-time and full-time experience in the industry. In 2017, she made the decision to pursue her larger goals in the non-profit and MLM industries and closed her Arlington, Texas studio.
Why TLC and MLM? Oluremi has developed a passion and dedicated her life to helping people in her dance and fitness community find natural products that are not only nutritional but assist in optimal health and feeling better overall.
"The original Iaso Tea was my initial intro into TLC a couple of years ago when I needed to take off a few pounds. As an avid coffee drinker, I also fell in love with the Delgada coffee!" said Oluremi.
Her MLM experience and willingness to learn has allowed Oluremi to successfully build large teams in more than one direct sales company, one of the largest growing to over 10,000 in the first 2 years. Some of her other accomplishments include achieving a Diamond rank in the first 11 months at another company, being the #4 Global Leader in her rank in 2015, and staying at the top 5 in Retention!
It's not about the quantity of the team that matters most to Oluremi, it's the quality!
The impact that our industry can have on helping people truly learn how to build, maintain and sustain a viable business with a product that helps others is my focus. Great leaders build more leaders, not a flock of followers. And I believe it is our responsibility to assist people in understanding "how to build profits" and "how to remain profitable over time" with an amazing product. My goal is to help as many people understand "how" to sustain their businesses over time, which truly allows for more freedom and financial growth.
Oluremi was already making total life changes before joining TLC. In fact, Oluremi has been serving as Director of Development & Strategic Initiatives for "Jump N For the Future: The Robert Pack Organization", a 501c3 non-profit based in New Orleans, Louisiana, where she will build part of her TLC team!
Robert Pack is a 20+ year veteran in the NBA and currently serves as the Assistant Coach of the Washington Wizards. He was also her business partner in two prior network marketing companies and one of the first people to ever sit down and show her how to build an MLM business! Now, she takes this knowledge with her and shares it with others.
"Jump N For The Future helps impact the lives of underprivileged young men in the 9th ward of New Orleans. We provide direct mentoring and expose them to the world of opportunities they may otherwise have missed without a helping hand," said Oluremi.
Oluremi carries her helping hand with her in everything she does, which is why she's focusing on her work with Jump N For The Future and MLM.
Oluremi was first introduced to TLC by Johnnie Green a few years ago. After a few refreshing conversations with Jack and John about TLC being open and welcoming to growth and change, (versus rehearsing the cycles we so often see in MLM), she was already setting goals to build her team.
Oluremi is striving to build her team based on respect, true business understanding, and sustainability.
"With my strengths and years of professional training in infrastructure development and organizational assessment, I plan to help TLC with strategic planning and leadership development," said Oluremi.
By focusing on collective work and responsibility, Oluremni not only hopes to strive in making total life changes, but her ultimate goal is to help create a winning environment for everyone, rather than just a few.
About Total Life Changes 
Total Life Changes (TLC) is a direct selling company offering a diverse product portfolio of health and wellness products. Founder and Chief Executive Officer Jack Fallon created TLC 16 years ago with a single product: NutraBurst®. Since that time, TLC has continued to develop weight loss and wellness products matched with an attractive hybrid binary compensation plan. This allows Life Changers of TLC to be rewarded quickly for introducing new customers to its products and business opportunity. Find out why so many are saying, 'It really is different over here.'