Jeff And Maureen Miller Achieve Presidential Director Rank At Melaleuca
September 7, 2019
By Team Business For Home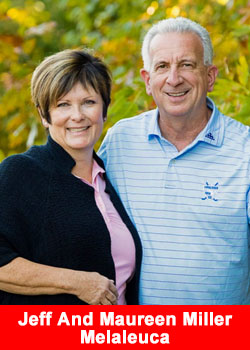 The Millers July check of $1,130,686 is the single largest check that Melaleuca has ever awarded.
Jeff and Maureen Miller stated upon their achievement:
"We made a decision that would change our life forever".
Jeff was a struggling small business owners working 15 hour days while drowning in debt. On Saturdays he would often take his two young boys to the factory with him.
Jeff had been following his dean of working for himself and owning a business but was feeling overwhelmed by how hard and complex running a business was proving to be. On that day nearly 23 years ago, he got a voicemail from  Ed Bestoso.
When Jeff called Ed back, he got his message:
"Hi, you have reached Ed Bestoso. Leave me your name number and I'll get back to you soon as possible. And by the way have a great melaleuca day.
Jeff had no idea who Ed was or why he had called, but the last line of his voicemail intrigued him. With his last $25, Jeff gassed up his car and met with Ed in the lobby of the Sheraton Toronto airport hotel.
Jeff wanted just one thing- to see if real customers were consistently shopping. So Ed showed Jeff his business report. Jeff was surprised by his willingness to share. He was even more surprised by what he saw- customers ordering products month after month for years.
Jeff enrolled and went to work, and his first check arrived. It totaled $119.95.
Jeff began to see the potential. When he attended launch with Ed the next month, he knew Melaleuca was exactly where he belonged.
"I could feel the essence of the company and what they were all about.
Relationships are key
You may be wondering why Jeff doesn't have a social media presence. It's because he believes in actual making phone calls is the most effective way to build meaningful relationships.
Phone calls involve connecting with people hearing their voices, listening. And building lifelong relationships. So it's no wonder that Jeff's business is rapidly growing with a 95.6% retention rate. Jeff isn't just trying to grow his business today; he's building a business to last a lifetime.
About Melaleuca
Melaleuca: The Wellness Company enhances lives by developing, manufacturing and marketing more than 480 natural health and wellness products. These health, home cleaning, pharmaceutical and personal care products are designed to be safer and more cost-effective than grocery store brands. Visit melaleuca.com for more information.