Top Leaders Minh and Julie Ho Join QuiAri
September 26, 2019
By Team Business For Home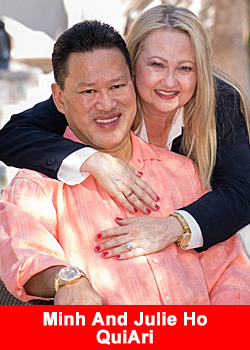 Minh and Julie Ho may reside in Las Vegas, but their next business venture is anything but a gamble.
The seasoned MLM industry veterans with over 26 years of experience have decided to join QuiAri, the new health and wellness network marketing company they believe is going to shake up the entire industry.
QuiAri is expected to be the next big thing in multi-level marketing, offering products that are power-packed with nutritional benefits and a special ingredient that has the industry buzzing with excitement, maqui.
The maqui berry is the world's new number one superfruit, delivering up to 5 times more antioxidant power than any other previously known superfruit. QuiAri products contain an exclusive extract of the berry, MaquiX™, that boosts the natural power of the maqui berry.
Minh and Julie have an amazing story. They were victims of the financial crisis of the early 2000's and turned to the MLM industry at a time when they were struggling financially. Two years later, they transformed their own lives and now inspire others to achieve success through network marketing.
 "I think a lot of Promoters are excited for the opportunity to be on the ground floor of a start-up company knowing they have the security and expertise of an established company.

QuiAri was founded by successful MLM industry veteran, Bob Reina. Bob has the resources and experience to take this company straight to the top."
stated Minh Ho.
Founder and CEO of QuiAri, Bob Reina, has assembled a team of MLM industry experts with over 100+ years of experience to introduce QuiAri's breakthrough products to a $4-trillion-dollar-a-year industry.
Minh and Julie believe that when it comes to starting a new company, timing is everything. Having a great product isn't enough to succeed. It must be delivered at a time when there is peak consumer demand.
"QuiAri products are easy to use, so they are perfect for people who are always on-the-go. It's a 2-step process. Drink a delicious shake and take a powerful energy caplet in the morning — 1..2…DONE,"
said Julie Ho.
Both Minh and Julie also believe taste is another big hurdle health and wellness companies have to overcome when trying to win over Customers. Even when effective, people have complained about the blandness and gritty aftertaste of popular nutritional shakes.
"We were completely blown away by the sensational taste of QuiAri Shake.  It was like — WOW! How could something so rich and flavorful be so  healthy?"
said Julie Ho.
In addition to extraordinary taste, QuiAri products are attracting the attention of industry Promoters because of its innovative compensation plan.
"Nobody in the health and wellness industry offers Same Day Pay. The ability to earn commissions within 5 minutes of each sale is very attractive to our industry. In most network marketing companies payment happens weeks after the sale,"
stated Minh Ho.
The QuiAri bonus structure is designed to benefit Promoters with opportunities to earn free products, lifestyle bonuses up to $5,000 USD, and potential monthly team commissions up to $200,000 USD.
"If you are willing to work hard, share amazing products, and feel better than ever, this is the right opportunity for you. Being one of the first to launch QuiAri's revolutionary products is very exciting. We're helping thousands of people live better lives,"
said Minh and Julie Ho.
 About QuiAri
QuiAri provides life-changing opportunities that empower people to feel their best so they can live their best. Their breakthrough health and wellness products are made from an exclusive extract of the maqui berry, the world's new number 1 superfruit. Plus, QuiAri offers opportunities to receive Same Day Pay just by sharing their products with others. Try. Love. Share!
These statements have not been evaluated by the Food and Drug Administration. These products are not intended to diagnose, treat, cure or prevent any disease. To learn more about QuiAri, their products and the opportunity to become a Promoter, visit www.quiari.com, or follow them on social media @QuiAriOfficial.
Income Disclosure Statement
Please note the QuiAri business opportunity offers unlimited income potential. However, QuiAri makes no guarantee of financial success. Success with QuiAri results only from successful sales efforts, which require hard work, diligence, skill, persistence, competence, and leadership. Your income will depend upon how well you exercise these qualities.
As QuiAri is in its first year of business operations, we do not have sufficient statistical data to prepare complete, first-year income disclosures. A more detailed survey will be conducted after our first year of business. If income projections were presented to you prior to your enrollment, such projections are not representative of the income, if any, that you can or will earn through your participation in the QuiAri Compensation Plan.