Vera Malygina From Russia Achieves Diamond Rank At Dagcoin – Success Factory
September 9, 2019
By Team Business For Home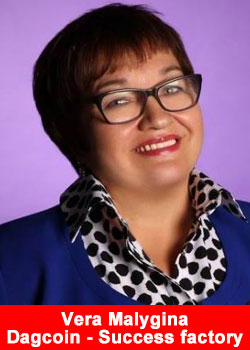 Success Factory is a network marketing company, which develops its business activity all over the world. One of the upcoming corporate events will be held in Moscow, Russia. It is a relatively fresh region to rise within this global company, but it is growing rapidly and is now presenting its first Diamonds.
One of the recent Diamonds from Russia is Vera Malygina. Vera is a competent professional with 14 years of experience in network marketing. She tells us that she started in the industry as a client, using beauty and health products, but as she tried to recommend those products to other people, she quickly understood that it was her calling. Vera tells us about her beginnings:
"I am a very energetic and hardworking person, and I felt that my energy and diligence was rewarded both financially and through recognition and respect from my relatives and from my colleagues in the business. I really love this industry: sharing something good with other people and help them become more successful, better and happier.
For me, network marketing has a lot of meaning. It is a team, it is an environment of successful people, it is a family, it is an opportunity for personal development, it is a possibility to live a happy life, the life of your dreams! You can open a business with a small capital, create a friendly international team and gain financial freedom."
Vera Malygina joined Success Factory in November 2017 by the invitation of her mentor and upline Vadim Rafalsky. Vera explains that at the time she took that decision she was already familiar with the concept of the digital economy, and by the official launch of the company in February 2018 in Dubai, she already reached the Emerald rank.
"The most important thing that attracted me in Success Factory was the opportunity to become different and more successful, to learn something new and to do it in collaboration with successful mentors. I feel in the right place and with the right people. 
The second reason was that I saw that the best industry leaders began to join Success Factory. It inspires me even more. I think a very important factor in business is whether there are professional leaders who interact as a united team. And it is found in Success Factory. Starting with my direct uplines Vadim Rafalsky and Marina Lyubova, who I trust unconditionally, to the wise leaders of the company Nils Grossberg and Kris Ress, network development director Kari Wahlroos, who is also my mentor, and number one in the world, professional international leaders Igor Alberts and Andreea Cimbala."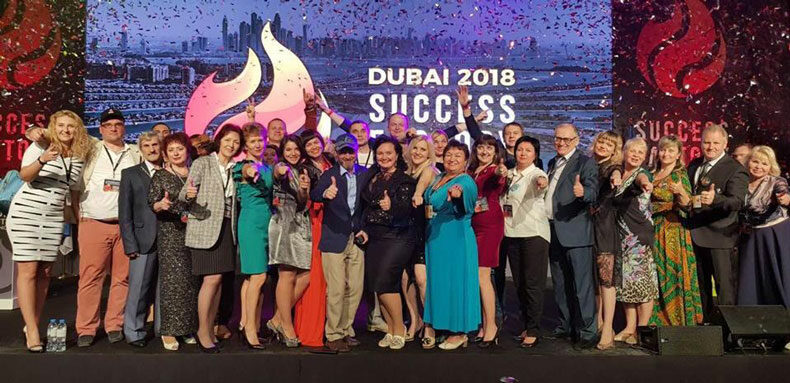 Vera is very enthusiastic about Success Factory and reveals some of her short-term plans: the Blue Diamond rank and before the end of 2019 and the Black Diamond rank by the second anniversary of the company in February 2020. Quite ambitious indeed, but Vera explains that those aspirations are not unrealistic:
"My expectations are based on my passion for the opportunity, as well as on my practical results so far. Perseverance, love for people, hard work and everyday action bore their fruit.

My relatives: my husband, son and his wife decided to professionally build this business, too, and this, I think, is my main award and recognition.
Our team operates in many cities in Russia and the CIS countries, hosting informational meetings and trainings at the Leadership Academy, founded by Vadim Rafalsky. I myself created my own school "Learn it yourself and teach your team", a system for launching new participants in the business.
Recently in Samara, we opened the first exhibition of Success Factory merchants. We participate in all of the company's events and are now preparing for the Regional Event in Moscow, which will be held in September this year."
About Dagcoin
We believe that cryptocurrencies are here to be a step up from regular money. This means improving the speed of transactions while reducing the cost, giving access to money to more people with lesser restrictions and limitations, giving more freedom to transact.
And at the same time preventing fraud and illegal activities. Dagcoin was created to fulfil all of these criterias – to become a digital version of money that people can use all around the world. Our currency is meant for using. This means that in the future you will be able to do everything with dagcoins. That includes getting paid, going shopping, exchanging, taking loans, paying for services, travelling, and almost everything else that comes to your mind. For more information please visit www.dagcoin.org