World Champion Athlete Nick Troutman Touts Benefits Of Touchstone Essentials
September 28, 2019
By Team Business For Home
Nick Troutman lives a life filled with adventure and fierce competition.
His list of professional accolades is extensive and ranges wildly from film producer, to World Freestyle Kayak Champion and even being featured on the National Geographic TV series 'Nomads'. Like many competing at a world-class level, he constantly seeks ways to improve his competitive edge.
"I was on a mission to find a high quality, organic, nutritional supplement line and it led me to Touchstone Essentials. Once I used the products, I knew it was a brand I wanted to work with.

Their full spectrum hemp oil is the best I've ever had. The difference it makes in my joints is incredible. I also see a great mental lift when I couple the hemp oil with their nootropic Boost Focus Fuel. There's something about that combination that helps to put me in the right headspace for the challenging activities I undertake."
Nick believes the addition of premium, plant-based supplements by Touchstone Essentials has benefited his athletic lifestyle. His grueling training and travel schedule have been made easier by incorporating their products into his daily life.
"My wife and I and our two little ones travel the country eight to ten months out of the year in our GMC Sierra truck with a 28-foot trailer in tow. We love cooking in our RV and we choose to be healthy, but when you're on the road, it is hard to eat healthy, even for me.
So, I bring my favorite green smoothie powder everywhere I go. I mix Super Green Juice on its own or add it to smoothie recipes. It gives me a much-needed veggie boost."
As a brand ambassador for Touchstone Essentials' organic nutritional supplements, Nick is fueled by the good inside as he travels North America and beyond for competitions and events.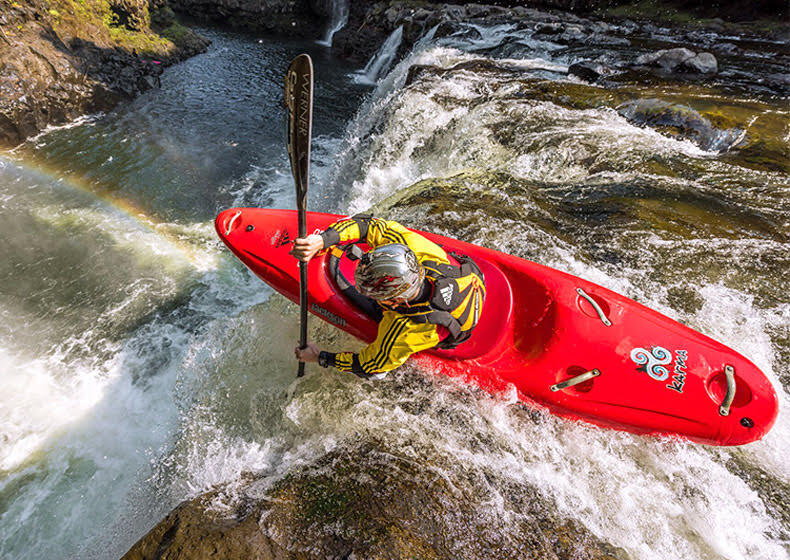 Recently, Nick undertook what he described as the "Wild and Free Tour" traveling through the Colorado mountains in search of the best river runs, seeking out adventure along the way, and ending up at the annual GoPro Mountain Games. Over the course of four adventure-packed days, Nick competed in multiple sports, including the Ultimate Mountain Challenge – a demanding combination of six events consisting of biking, river, and running races.
Nick credits the right nutrition with fueling his energy and recovery.
"I've found that getting enough high-quality plant protein helps with muscle strength and recovery, so that I'm less sore after a tough workout. I love the Organic Super Protein by Touchstone Essentials.
I know there are a million different ones out there, and you've probably tried most of them, but I'll tell you this is the last one you'll ever have to try. It has the MCT's, the omega's, superfood protein, a great flavor, and is gluten and dairy free which is big for me."
Next up for Nick is more travel, more high-water river runs, and more awe-inspiring trips over towering waterfalls. All fueled by the good inside.
About Touchstone Essentials
Touchstone Essentials was founded in 2012 by 30-year industry veteran, Eddie Stone, with a vision of organic goodness accessible to everyone. They ship to over 60 countries around the world. Touchstone Essentials has been experiencing double-digit growth over the past 3 years and with the recent launch in August 2018 of the organic CBD hemp oil line, things have started reaching critical mass.
They describe themselves as proud rebels with a cause, offering products for Daily Detox, Organic Superfoods, and CBD. When you join as a VBO, you become a visionary business owner.
As a VBO, you're the CEO of your own empire, but you're not alone. Touchstone Essentials offers an advanced digital marketing system with a trove of resources, all at no additional cost. This includes a TheGoodInside.com e-commerce site, blog, and e-newsletters, social media retargeting and more. For more information please visit www.thegoodinside.com