ByDzyne Names Dr. Sanjeev Sharma As Chief Scientific Advisory Board Member
October 16, 2019
By Team Business For Home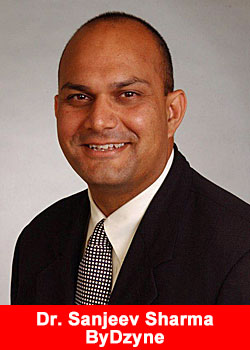 ByDzyne inaugurates Dr. Sanjeev Sharma as their Chief Scientific Advisory Board Member.
He has been an integral part in the support of the development, formulation, innovation, and testing of ByDzyne's innovative products.
With the introduction of Dr. Sharma, he brings about a unique background and knowledge to ByDzyne. Dr. Sharma is a world renowned and board certified cardiac surgeon, with a fully accredited and respected practice in San Francisco, California.
He received his education at the University of Arizona College of Medicine, and post graduate training as the Chief Resident in Cardiopulmonary Surgery at the Oregon Health Sciences Center. Dr. Sharma has led clinical research and published in peer reviewed journals as a board certified heart surgeon, and had the privilege of educating techniques of cardiac surgery throughout the world.
After 10 years as a cardiac surgeon, Dr. Sharma instead turned to alternative health just 8 years ago, after witnessing firsthand the benefits and results. Since then, he has seen, educated, and treated over 35,000 patients specifically through CBD.
His passion, expertise, and education are a driving force in his role as a scientific and medical spokesman and adviser for ByDzyne.
His experience has led to developing hemp-based phytocannabinoid products of the highest quality and ByDzyne is excited for future roll-outs of unique and top-notch products.
Dr. Sharma is driven by innovative concepts, and his core philosophy is to educate his patients, and now the ByDzyne family. And through his innovative and doctor formulated formulas, his goal is to provide and achieve optimized effects. Now, Dr. Sharma devotes all of his time into developing such products.
The current product line he is proud of is ByDzyne's ALLUR brand.
About ByDzyne™
ByDzyne's multi-faceted approach disrupts the traditional industry model by first understanding that one size DOESN'T fit all.
You were born into a particular culture, with unique tastes, interests, and desires. ByDzyne™ was created with a mission to celebrate your uniqueness and empower your extraordinary potential. Our exceptional "culture-crafted" products meet distinct needs in key consumer markets, and our lucrative business opportunity was formulated to fuel your ideal lifestyle, as YOU see fit.
Our visionary leadership wanted to create an unparalleled company with your individual needs in mind, whether as a consumer or Brand Ambassador. This customizable approach is a driving force that propels everything we do and will do in the future. We are launching into not one but FOUR of the fastest growing multi-trillion dollar industries, creating one of the most explosive opportunities in the market, starting with technology, beauty, wellness, and travel.
Our mission is to continue to expand our global footprint into multiple verticals to maximize your income opportunities, capitalize on trends, and gain market share in upcoming industries as they advance. Soon we will be adding a digital category to our product lineup, further strengthening our value proposition.
Through ever-evolving innovation, and with the utmost integrity, our experienced executive team strives to stand apart from the pack, and build a legacy you can be proud of; one you can truly call home. We are ByDzyne™. Where limitations don't exist. For more information please visit www.bydzyne.com.