Industry Veteran Cindy Chrenek Joins QuiAri
October 11, 2019
By Team Business For Home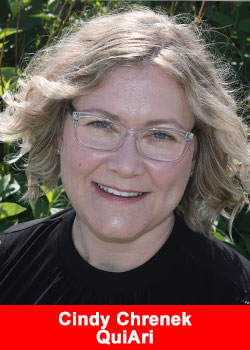 All of the buzz surrounding QuiAri, a one-of-a-kind health and wellness company that's taking the industry by storm, has attracted the talents of leading Promoters across the globe.
When industry veteran Cindy Chrenek in Alberta, Canada, heard about QuiAri's breakthrough products and had an opportunity to taste the shake, she knew she couldn't let this opportunity pass her by. QuiAri Shake and QuiAri Energy feature the new number 1 superfruit, maqui, which delivers up to 5 times more antioxidants than any other previously known superfruit.
"Honestly, I fell in love at first sip. The shakes are so good and they really fill you up. I don't know how Bob Reina did it, but the world is going to be a healthier place because of it,"
said QuiAri Promoter, Cindy Chrenek.
After speaking with Bob over the phone, she learned that QuiAri collaborated with the world's leading maqui expert, Dr. Juan Hancke, to create MaquiX™, an exclusive, organic super-concentrated extract that boosts the natural power of maqui. That was the moment she really got excited.
 "You can't argue with science. His [Dr. Juan Hancke's] impressive research lends a ton of credibility to the brand. 
MaquiX™ is found in all of QuiAri's products. Cindy predicted in pre-launch that QuiAri products would be in high demand throughout Canada and the rest of the world at launch – and she was right!
"These past few weeks have been really busy. There is so much interest in the products and the opportunity. My contribution will help build QuiAri into one of the biggest brands in the health and wellness industry – and I'm getting Same Day Pay to do it"
exclaimed  Cindy Chrenek.
Same Day Pay, commissions paid within 5 minutes after every sale, is part of QuiAri's revolutionary Comp Plan. No other company in the health and wellness industry currently offers Same Day Pay. 
 "Same Day Pay is instant gratification. It means a lot to people that are going through hard times,"
said Cindy Chrenek.
In the past, Cindy's earnings from direct sales helped keep her family afloat when her husband was laid off from his job. That money also gave her the freedom to work from home and spend more time with her children.
"From Same Day Pay to exclusive products nobody else in the industry even offers, QuiAri is the hottest new MLM in the industry right now. I'm really proud to be a part of it. They operate like a company that's been in business for two decades. It's wonderful,"
said Cindy Chrenek.
About QuiAri
QuiAri provides life-changing opportunities that empower people to feel their best so they can live their best. Their breakthrough health and wellness products are made from an exclusive extract of the maqui berry, the world's new number 1 superfruit. Plus, QuiAri offers opportunities to receive Same Day Pay just by sharing their products with others. Try. Love. Share! To learn more about QuiAri, their products and the opportunity to become a Promoter, visit www.quiari.com, or follow them on social media @QuiAriOfficial.
These statements have not been evaluated by the Food and Drug Administration. These products are not intended to diagnose, treat, cure or prevent any disease.
Income Disclosure Statement
Please note the QuiAri business opportunity offers unlimited income potential. However, QuiAri makes no guarantee of financial success. Success with QuiAri results only from successful sales efforts, which require hard work, diligence, skill, persistence, competence, and leadership. Your income will depend upon how well you exercise these qualities.
 As QuiAri is in its first year of business operations, we do not have sufficient statistical data to prepare complete, first-year income disclosures. A more detailed survey will be conducted after our first year of business. If income projections were presented to you prior to your enrollment, such projections are not representative of the income, if any, that you can or will earn through your participation in the QuiAri Compensation Plan.