Karatbars CEO Harald Seiz: CoinDesk Spread False Information
October 8, 2019
By Team Business For Home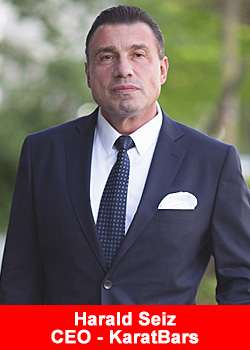 Recently we have reposted an article written by leading Crypto Currency news website Coindesk.
According to Karatbars CEO Harald Seiz it if false information and the company asked Business For Home to publish their response.
Harald Seiz:
Three days ago, on October 4, 2019, an article that is claiming, among other things, that Karatbars is being investigated by Florida regulators has surfaced on CoinDesk.
Moreover, the author of the article in question goes on to state that Karatbars did not respond to CoinDesk's requests for comment, adding that "we will update the article if we hear back."
However, Karatbars never received any such requests and, thus, was not able to respond to the accusations before the article was published.
Consequently, no statement from Karatbars could have been included in the article, even if the author would have wanted to include one. However, the author deliberately decided to include that sentence anyway.
This paints a bad picture of Karatbars. Further, this violates not only the principles of suspicious transaction reports but also, in turn, Karatbars' rights.
Looking at the situation, one might get the impression that this is yet another article that is part of a campaign that is trying to paint a bad picture of Karatbars. Certain people, who are trying to tarnish Karatbars' reputation and damage its business, have published many articles like this in the past. Fortunately, these articles could, mostly, already be deleted by taking legal steps.
"These rumors and accusations are unfounded. Further, they are being made by anonymous sources with questionable credibility and motives. We feel discredited and are currently looking to take legal steps,"
said Karatbars CEO Harald Seiz. "Somebody clearly wants to stop Karatbars' success. That's not going to happen!"
A closer look
That being said, it is now time to take a closer look at what else the article in question is misrepresenting.
First off, the article claims that Karatbars is being investigated by Florida regulators. However, we are not aware of any such investigation taking place, and we do not know where the author got that information from.
"[…]neither Karat Coin nor Karatbars International are under investigation of the Office of Financial Regulation and there are no judgments pending or issued against either of the two entities,"
said Anna Krimshtein, who is the head of Karatbars' legal department in Florida, in a recent letter to CoinDesk.
Further, the article mentions that Quebec's Financial Markets Regulator issued a warning for investors in 2014. And there was indeed a legal dispute that was going on in Canada from 2014 to 2016.
What the author seemingly forgot to add is the fact that this dispute ended in favor of Karatbars, which is still very successful in Canada. A transcript of the court process is available here.
Adding on to this, there are also already being taken legal steps against the accusations in Namibia.
Another major point that gets brought up is our gold mine in Madagascar. The author claims that this mine is not real.
However, the documents regarding our gold mine are completely transparent and available on our website. In contrast to what the author makes it out to be, the gold mine is real and there have actually been positive news reports about it in the past, such as this one.
Legal action against CoinDesk
For those reasons, the reputable law firm "Höch Rechtsanwälte PartG mbB" sent a cease and desist letter to CoinDesk on behalf of Karatbars.
"We are completely transparent. We have nothing to hide. If there are unanswered questions, we will answer them,"
said Seiz when asked about the accusations. Further, he announced that there will be a big information campaign for investors, customers, the media, and the authorities in the coming weeks.
The Chairman of the Board, Josip Heit, added:
"There is no reason to worry. All of our projects are going as planned, and we will vehemently go against all attacks and 'smear campaigns' with everything in our power. The KBC is ranked 55 worldwide.

And, with how things are going, we are going to have a million satisfied customers by the end of the year. These facts are the best proof of our success and the sustainability of our business model."
A look into the future
Karatbars is on schedule with all announced projects and products≥
Together with the executives, it was already decided in August, at the "Gold Elite Director Summit 2019" in Stuttgart, that the presale phase for the KCB will end on the 15.12.2019 so that the new members of the Karatbars community can also profit.
Afterward, the hardfork of both coins takes place. During this, the figures from the presale phase of the KCB will be published — at the same time, a prospectus will be presented and published. This information was already presented at the Karatbars Event on 15.09.2019.
Karatbars is committed to a regulated crypto market. About 20 years ago, when the "Neue Markt" was listed on the German stock market, comparable manipulations were being carried out by fraudsters. Only the regulated stock market could finally curb these things. It should also be noted that these manipulators preferably act and spread fake news on the weekend. Especially at times when authorities usually do not work. They are working with perfidious tricks that can only be stopped by more regulation.
Blockchain technology is the future and it will not be too long before the crypto market is finally properly regulated so that companies with great ideas or products no longer fall victim to anonymous, criminal acts.
We think that that this whole debacle clearly shows that this market needs more, and better, regulation. It should not be possible to get away with stealing 400 million coins and starting a smear campaign, which is why we will continue to fight against wrongdoings such as these. We demand more transparency and regulation for this market. It can not go on like this.
About Karatbars International
Karatbars International was founded in 2011. The company specializes in the sale of small gold bars and gift items in gold bullion.
The headquarters and the logistics center of Karatbars International is located in Stuttgart, Germany. It is responsible for the support, marketing, customer and partner communication, execution and delivery of orders. Headquarters also co-ordinates the opening of new countries throughout Europe.
Deliveries in smaller quantities are packaged under video surveillance at the headquarters of Karatbars International, and shipped daily via FedEx.
Our clients range from individuals and families to consumers and traders. We value every client of Karatbars and align our company to better serve our clients' needs. Our client base is supported by the efforts of our affiliate partners around the world.