QuiAri Launched In 200 Countries
October 1, 2019
By Team Business For Home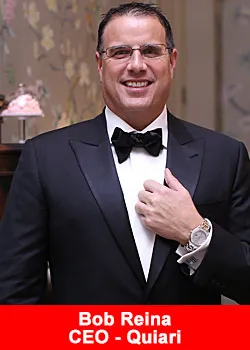 Founder and CEO, Bob Reina, is a successful 26-year MLM industry veteran and former law enforcement officer. His new global company, QuiAri, launched today in over 200 countries world-wide.
"The timing was right to introduce these breakthrough products to the world. Whether you are a consumer looking to improve your health or an MLM veteran looking for the next big opportunity, QuiAri products inspire people to live better,"
stated Bob Reina.
QuiAri products contain a synergistic blend of antioxidants, superfoods, protein, probiotics, fiber, and 24 essential vitamins and minerals — and no artificial colors or preservatives. However, the most intriguing ingredient is an intensely purple berry found only in the pristine Patagonia region of Chile.
The maqui berry is the world's new number 1 superfruit, with up to 5 times more antioxidant power than any previously known superfruit. QuiAri developed a proprietary extract of the berry, MaquiX™, that boosts the natural power of maqui even further.
To help with the company launch in over 200 countries world-wide, Bob recruited the best of the best — a management and support team with over 100 years of experience.
From multi-talented Emmy award-winning videographers, famous photographers, world-class graphic designers, I.T. gurus, and an unbeatable customer service team, QuiAri is expected to be the new number one health and wellness MLM in the industry.
Chief Operating Officer of QuiAri, John Neubauer, understands why there is so much hype surrounding the brand.
"This is a financially strong company introducing products that no one in the industry has ever seen before. The immense amount of interest from Promoters in pre-launch was an eye-opening experience. We sent product samples out to a select group of Prospects around the world and and the response was overwhelming, "
said John Neubauer, COO of QuiAri.
QuiAri Promoters are excited for the opportunity to be on the ground floor of a start-up knowing they have the security and expertise of an established company. Many are attracted to QuiAri's generous compensation plan featuring Same Day Pay. QuiAri is currently the only health and wellness company that pays commissions within 5 minutes of each sale.
In addition to Same Day Pay, QuiAri's world-class bonus structure helps their Promoters achieve success faster.
Refer Three and It's Free: get free products when the Promoter and three of their customers are on AutoDelivery
Speed Bonus: potentially earn over $1,000 USD within your first 14 days, including a one-time $500 USD Speed Bonus
Lifestyle Bonus: a chance to earn an extra $5,000 USD each month
Promoters are provided with industry-leading resources to help build their business. Features like a free state-of-the-art mobile business app, a custom-built Back Office and best-in-class marketing materials are immediately available upon sign-up.
"I'm proud of the entire QuiAri team for the successful launch of our brand, but there is much more work to do. We're focused on the future of QuiAri and expanding our vision world-wide. Stay tuned!"
said Bob Reina
 About QuiAri
QuiAri provides life-changing opportunities that empower people to feel their best so they can live their best. Their breakthrough health and wellness products are made from an exclusive extract of the maqui berry, the world's new number 1 superfruit. Plus, QuiAri offers opportunities to receive Same Day Pay just by sharing their products with others. Try. Love. Share!
To learn more about QuiAri, their products and the opportunity to become a Promoter, visit https://quiari.com/en, or follow them on social media @QuiAriOfficial.
These statements have not been evaluated by the Food and Drug Administration. These products are not intended to diagnose, treat, cure or prevent any disease.
Income Disclosure Statement
Please note the QuiAri business opportunity offers unlimited income potential. However, QuiAri makes no guarantee of financial success. Success with QuiAri results only from successful sales efforts, which require hard work, diligence, skill, persistence, competence, and leadership. Your income will depend upon how well you exercise these qualities.
 As QuiAri is in its first year of business operations, we do not have sufficient statistical data to prepare complete, first-year income disclosures. A more detailed survey will be conducted after our first year of business. If income projections were presented to you prior to your enrolment, such projections are not representative of the income, if any, that you can or will earn through your participation in the QuiAri Compensation Plan.